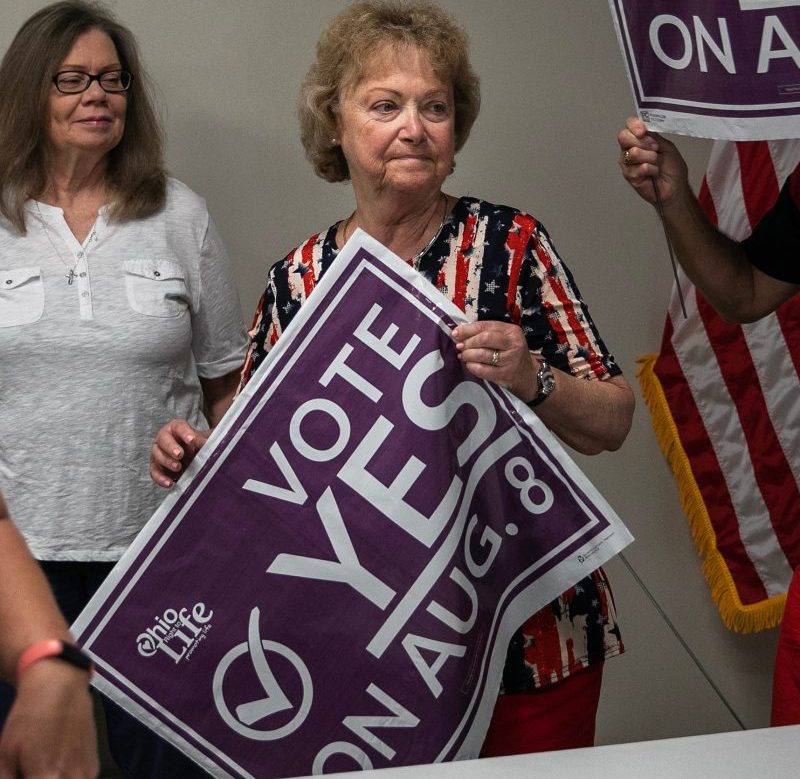 Yes, Ohio's vote was about abortion, but it was also about majority rule
The vote in Ohio this week significantly set back Republican efforts to restrict abortion rights, no question. Voters strongly rejected Issue 1, which would have raised the threshold for all constitutional amendments to 60 percent from 50 percent plus one — but the measure was always mainly a thinly veiled effort to head off an amendment that would enshrine abortion rights in the state constitution.
Now that amendment can still pass with a bare majority, which both polling and the recent history of such measures even in red states suggest is likely.
But how much was the vote this week a repudiation of efforts to restrict abortion, and how much was Ohioans not wanting to dilute direct democracy? That's a little more complicated.
It's true that abortion dominated coverage of the ballot measure. Ultimately, its most prominent supporter admitted that abortion was the motivation behind it. But it's also true that there is a demonstrated recent history of voters rejecting changes to vote thresholds, apparently because they don't like the idea of direct democracy being watered down.
Polls conducted in advance of the vote showed the tally wasn't breaking down so neatly between those who supported abortion rights and those who opposed them.
A Suffolk University poll in mid-July showed that nearly half of those who opposed the upcoming amendment enshrining abortion rights in the state constitution also opposed the change that would have assisted in defeating it. That was actually more than the one-third of abortion-rights opponents who backed Issue 1 — a more expected alignment of positions.
So even abortion-rights opponents opposed the measure, at least at that point. Abortion-rights amendment supporters were perhaps predictably more opposed to the change, but even 22 percent of them supported it — reinforcing the idea that this issue didn't break down neatly.
A later poll, from Ohio Northern University, suggests that the untidiness persisted into mid-to-late July. At that point, abortion-rights supporters opposed changing the threshold, but only by 48 percent to 42 percent. (The poll question was narrowly about the threshold; the measure included adding other restrictions to the amendment process.)
And the split among abortion-rights supporters actually wasn't hugely different; they opposed the change 50 percent to 39 percent.
These were snapshots in time, and obviously things could have changed by Tuesday, particularly as the campaigns ramped up and voters might have become more aware of how the threshold and abortion issues were intertwined. Regrettably, we don't have exit polls from the actual vote, which might reveal which issue motivated voters more.
But there are other reasons to believe that, for a substantial number of voters, this wasn't necessarily about abortion.
One is that such GOP-backed measures have often underperformed the Republican lean of a state, just as the one in Ohio did.
FiveThirtyEight recapped the fate of four similar ballot measures between 2018 and 2022. Only one of the four passed: a measure in Arizona that was narrowly geared toward ballot measures that increase taxes. It got 51 percent. The other three — two proposed changes in South Dakota and one in Arkansas — each failed despite the red lean of those states. A proposed 60 percent threshold got just 41 percent of the vote in Arkansas and just 33 percent in South Dakota. (An earlier attempt at a 55 percent threshold also failed in South Dakota, in a closer vote.)
Comparing those votes to the 2020 presidential election results, the GOP-supported positions underperformed the GOP lean of the state by 29 points in South Dakota, 21 points in Arkansas and 10 points in Ohio.
What that suggests: Even in the absence of an abortion focus, these measures perform quite poorly. And in fact, the Ohio measure actually performed better than the ones in those states, relative to the state's partisan lean. (It performed worse than the Arizona measure, but again, that was narrowly about tax increases, which likely explains why it did better.)
That comparison only takes you so far, of course. Each state featured a different debate over these measures. In South Dakota, for instance, this was largely viewed as an (ultimately unsuccessful) effort to head off a ballot measure expanding Medicaid. In Arkansas, the issues involved were more nebulous. And both of those states have pretty proud populist traditions that probably accounted for much of the opposition.
The Arkansas example reinforces how the issue can become polarized over time. Polling conducted by Hendrix College in advance of the vote showed Democrats increasingly moving against it. By three weeks before the vote, Republicans supported the change by nearly 30 points, while Democrats opposed it by nearly 40.
Jay Barth, an emeritus professor at Hendrix College who helped conduct those polls, said the proposed change had little in the way of a campaign behind it, but opponents were able to marshal support on populist and progressive grounds.
"There were a lot of traditional progressive organizations in the state who had become increasingly focused on ballot measures to put in place progressive policies in a very conservative state," Barth said.
The setup in Ohio was seemingly similar. The attempted change came across as a desperation move that rubbed even some big-name Republicans the wrong way because of its suggestion of minority rule. That — combined with a progressive push arguing that this was their side's last best hope of having a seat at the Republican-dominated table — makes it easier to see how the measure was opposed by 57 percent of voters in state that gave President Biden just 45 percent.
But there is certainly reason to believe that the abortion focus greased the skids by marshaling the opposition.
The only other recent such ballot measure decided outside a general election was in South Dakota. That June 2022 election featured just 31 percent of registered voters voting, even as it was held during a regularly scheduled primary featuring races for governor, Senate and the state's at-large House seat.
The Ohio special election Tuesday, by contrast, featured only the ballot measure but reached 38 percent turnout in unofficial returns. This despite its being held in August — the very month Republicans had recently decided shouldn't feature elections because turnout was so low. (Some wagered, logically, that supporters of the effort picked August precisely because they hoped for low turnout.)
That's not huge turnout, but it suggests that a relatively technical change to the political process animated people because they connected it to something lots of them cared about.
"For Democrats, Issue 1 was mainly about abortion, but also about fighting back against GOP overreach in the state and more broadly speaking against Republican policies to consolidate their power," said Robert Alexander, the political science professor at Ohio Northern University who conduced its poll.
Alexander added: "Surely, there were pro-choice Republicans who voted against Issue 1, but I believe many also saw it as simply too much of a power play by the GOP in the state."
This post appeared first on The Washington Post