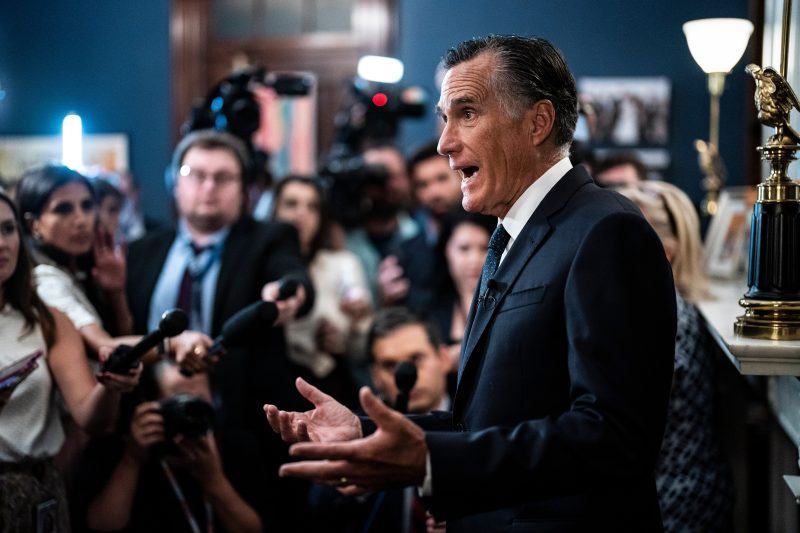 'You sell yourself so cheap?' Romney's stark indictment of GOP cowardice.
The headline Wednesday was that Sen. Mitt Romney of Utah is retiring — another Trump-critical GOP lawmaker heading for the exits in a party that is, relatedly, still dominated by Donald Trump.
What may be even bigger news is the abject portrait the departing senator is now painting of his fellow Republicans. More so than virtually any American politician in recent history, he casts his colleagues — seemingly the vast majority of them — as craven cowards.
The revelations come in an excerpt from a new book about Romney by the Atlantic's McKay Coppins. The excerpt was published shortly after news of Romney's retirement was broken by The Washington Post's Dan Balz.
In Romney's interviews with Coppins spanning the past two years, it becomes clear that Romney is content to burn the house down on the way out — and spend his final 16 months in the Senate as even more of an outcast than he already is.
The article's portrait of Romney fills out the picture of a conservative movement increasingly bereft of scruples or morality in the age of Trump. It focuses on his Senate colleagues but also high-ranking former GOP leaders more broadly, often singling them out in ways that you rarely see from a fellow partisan, even in retirement.
Here are highlights:
Romney reserved his harshest words for freshman Senate Republican J.D. Vance of Ohio, once a strong Trump critic like Romney who has refashioned himself as a MAGA warrior. "I don't know that I can disrespect someone more than J.D. Vance," Romney said in 2022. Romney said he imagined confronting Vance and telling him: "It's like, really? You sell yourself so cheap?"Close behind are Sens. Ted Cruz (R-Tex.) and Josh Hawley (R-Mo.), whose furthering of 2020 stolen-election claims Romney seems to regard with particular disdain. "They know better!" he said. "Josh Hawley is one of the smartest people in the Senate, if not the smartest, and Ted Cruz could give him a run for his money." Romney said they made a "calculation" that "put politics above the interests of liberal democracy and the Constitution."Of former vice president Mike Pence, a man who like Romney wears his religiosity on his sleeve: No one has been "more loyal, more willing to smile when he saw absurdities, more willing to ascribe God's will to things that were ungodly than Mike Pence."Romney said he felt he could work with Sen. Ron Johnson (R-Wis.), unlike others, because Johnson operated in good faith. But he suggests that Johnson's good faith is symptomatic of his conspiratorial true-believerism. "Ron, is there any conspiracy you don't believe?" he recalls saying after Johnson spoke about Hunter Biden and Ukraine.He was less harsh regarding Senate Minority Leader Mitch McConnell (R-Ky.). But he suggested that McConnell, too, lets political expediency eclipse principles. The piece quotes McConnell telling Romney that he was "lucky" because, thanks to his unusual setup in Utah, Romney "can say the things that we all think … but can't say." It cites McConnell making an argument against convicting Trump at his first impeachment trial because Democrats could use it to obtain power — while ignoring the merits of the case. It also quotes McConnell saying that the impeachment managers "nailed" Trump and utterly dismissing Trump's main defense. (McConnell's office said he had no recollection of saying that the impeachment managers had "nailed" Trump, nor did that reflect what he thought at the time. The office also said he didn't recall telling Romney he was "lucky" but declined to comment on whether he told Romney he could "say the things we all think.")Romney is also seemingly more understanding when it comes to his 2012 presidential running mate, ex-House Speaker Paul D. Ryan (R-Wis.). But he seemed taken aback when, despite Ryan having broken with Trump in certain ways, Ryan cautioned him against voting to convict Trump in that impeachment, citing Romney's personal political concerns. (Romney would later become the first member of a president's own party in history to vote to convict.)
Then there are Romney's broader comments about his party.
"A very large portion of my party," he said, "really doesn't believe in the Constitution."
He said that, in private, his GOP colleagues ridicule Trump — and that the Senate caucus even burst out laughing after a particularly rambling visit from the then-president.
"Almost without exception," Romney said, "they shared my view of the president." He says one senior Republican said Trump "has none of the qualities you would want in a president, and all of the qualities you wouldn't."
There is no question that Romney played the game, too, as National Review notes. He played a significant role in launching Trump's political career by legitimizing him during the 2012 campaign, even as Trump was neck-deep in his ugly birther campaign. After the 2016 campaign, he briefly made nice with Trump and even sought to become his secretary of state. Romney's evolving positions on abortion over the years seemed to comport with whatever was politically beneficial at the time.
In that sense, this is a tale as old as time — a lawmaker of advanced age who, with fewer personal political concerns, is suddenly freed up to vote how he wants and say what he actually feels.
What's different about Romney today is that his evolution in this case has been decidedly inexpedient. Not only has he been saying these kinds of things for years in advance of his announced retirement, but his stance has turned him into a pariah in the party in which he made his name. And while he is 76 years old, Romney could easily have continued to be a player in the party for many years to come.
You can blame him for his late conversion, but it's difficult to understand that what he's doing now is based on anything other than conviction, because of the costs involved. (Coppins reports that the wealthy senator paid $5,000 per day for private security for his family after Jan. 6.)
And Romney no longer seems content to target merely Trump on the way out. He's calling out the many colleagues who, in Romney's estimation, have gone much further than he ever did to enable Trump — and have played a vital role in his continued preeminence.
In that way, Romney's interviews should be viewed in the same light as the disclosures before Fox News's $787.5 million settlement with Dominion Voting Systems — a damning portrayal of people who know better saying things they don't believe to toe Trump's line, with little to no regard for the damage that does to our political system and democracy.
Except in this case, the revelations were entirely voluntary.
This post appeared first on The Washington Post