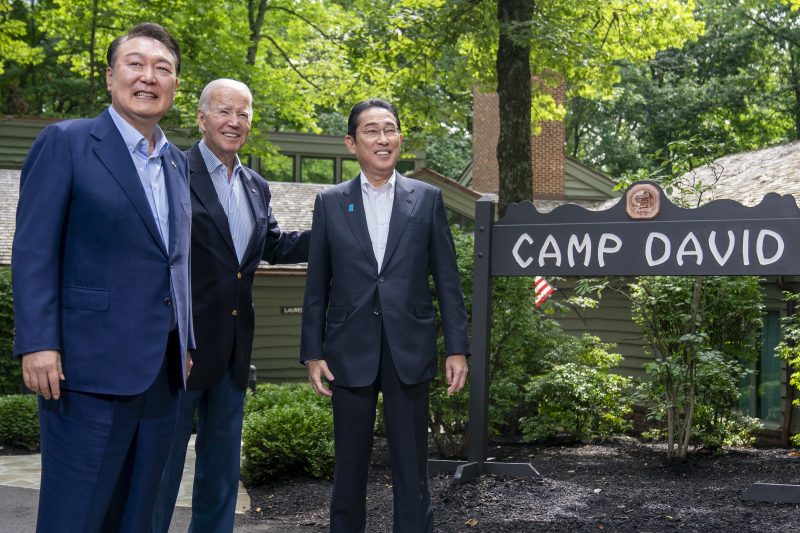 At Camp David, Biden's fondness for retreat outpaces immediate predecessors
CAMP DAVID, Md. — President Biden is not shy about his feelings toward living in the White House.
"It's a little like a gilded cage," he said early in his presidency, adding, "I find myself extremely self-conscious."
But, about 62 miles north, the president has become deeply fond of the other presidential residence. Here at Camp David, the rustic presidential retreat nestled in Catoctin Mountain Park, Biden loves the quiet and the vast outdoors that he can explore unencumbered by the hulking entourage that usually follows him around, according to aides, who spoke on the condition of anonymity to discuss the president's personal time. He frequently bikes or walks around the wooded hills, often accompanied by some of his children and grandchildren, and almost always, with his dog, Commander, by his side.
On Friday, he brought two new visitors to the retreat, hoping to conjure the site's diplomatic history to bolster a three-way alliance and establish a new legacy. Biden hosted Japanese Prime Minister Fumio Kishida and South Korean President Yoon Suk Yeol here for a first-of-its-kind trilateral summit, with the goal of strengthening economic and military cooperation between the countries in the face of a rising China.
"If it seems like I'm happy, it's because I am," Biden said, a reflection of the successful talks but also likely his affection for Camp David.
Biden, aides say, respects the historical legacy of Camp David, where President Jimmy Carter brokered the Camp David Accords in 1978 between Egypt and Israel, President Franklin D. Roosevelt hosted British Prime Minister Winston Churchill during World War II and President Bill Clinton tried to further peace in the Middle East with Israeli and Palestinian leaders in 2000.
"I think it's more special to be invited to Camp David than the White House," said Michael Giorgione, who served as commander of Camp David for presidents Clinton and George W. Bush and is the author of the book "Inside Camp David."
But beyond the history, Biden really enjoys the rustic retreat — both to get work done and relax with family.
Aides say the president particularly likes the gym here and often takes advantage of the many outdoor activities, including the golf hole just outside his presidential cabin. There is also a driving range, a swimming pool, tennis courts, bowling, skeet shooting and mountain biking.
On Saturdays, the president attends Mass held at the Evergreen Chapel, which is usually followed by movie nights with his family, according to aides. One time, the president popped into the movie theater where first lady Jill Biden was watching "House of Gucci." He grabbed some popcorn out of the machine and caught a few seconds of the film but did not seem to be particularly interested in it. He walked over to his wife's seat, gave her a kiss and left with his popcorn, one of the aides said.
Biden also has spent some of his most consequential weekends at the private retreat. As the Taliban took control of Kabul in the summer of 2021, Biden monitored the situation from a secure conference room here. The White House released photos that showed Biden sitting alone at a long table as his top national security advisers beamed in by video.
Before the State of the Union this year, he brought a small group of aides for a long weekend to finalize and practice his speech. And as he negotiated a resolution to the debt ceiling standoff, Biden sat on the patio of Aspen, the president's lodge, and made calls to lawmakers.
Biden has made 29 visits to Camp David since taking office, spending all or part of 98 days here, according to Mark Knoller, a former CBS News White House correspondent who tracks presidential trips.
By contrast, Barack Obama had only spent 48 days over 20 visits at Camp David at the same point in his presidency, and he never grew to enjoy the place. Former president Donald Trump, who had only spent 20 days over 9 visits at this point in his term, derided Camp David as "very rustic" and saying its appeal would wear off in 30 minutes. His real estate properties, by contrast, are famously adorned in gold.
"It comes down to the personality of the president," Giorgione said.
Another benefit for the Bidens at Camp David: The news media is almost never allowed. Friday's summit, which included a news conference, marked the first time in Biden's presidency that the news media were allowed in. Obama held the last international summit at Camp David in 2015 for Arab leaders.
That means most of what Biden does during his stays here is unknown — with the exception of some social media posts from the president's family. During Presidents' Day weekend in 2021, Naomi Biden, the president's eldest granddaughter, posted a picture on Instagram of her and her grandfather playing a Mario Kart video game.
"Secret Service made an exception and let him drive himself," she wrote in a caption of a photo showing her and her grandfather seated next to each other playing the arcade game.
She added: "A little rusty but he still won (barely)."
That same weekend, she posted a photo on Twitter of Biden wearing a Camp David hat: "We bought him some swag since it's Presidents' Day weekend and he's 'literally' President," she said.
In a subsequent tweet, she posted another photo of the back of the hat which had "POP" engraved, writing, "And just to make sure the job title doesn't get to his head …"
On Friday, the tan-colored Camp David hat — sans the "POP" engraving — quickly sold out at a pop-up gift shop for staff and press.
This post appeared first on The Washington Post