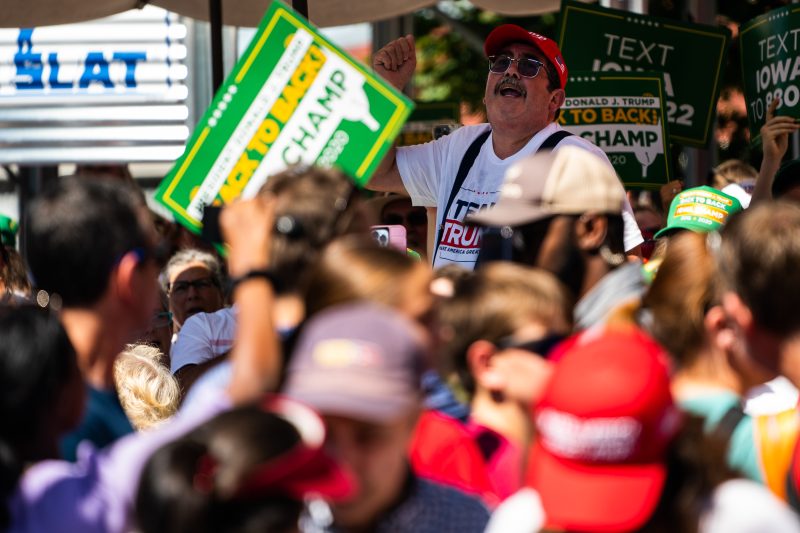 In Iowa, Republicans shrug off Trump's legal woes, echoing his defiance
DES MOINES — Republican Brian Nevermann says he is "not a fan" of Donald Trump, and is undecided on who he'll caucus for next January. The 60-year old Iowan suggested Trump asking Georgia Secretary of State Brad Raffensperger to find enough votes to reverse his 2020 loss in Georgia is potentially "kind of serious."
Yet to Nevermann, the fourth indictment Trump faces, coming this week in Georgia over efforts to reverse his 2020 defeat, amounts to "a political hit job," and he expressed concern about the impact on Trump's ability to campaign. Together with the other three indictments the former president is confronting, it makes Nevermann "in a way … want to resist the left more and say 'Okay, I can support Trump.'"
Richard Christie dismisses the latest indictment as "absolutely fraudulent." A Trump backer, the 62-year-old Republican predicted that Trump's trials will "increase the determination for the people that know what's going on to vote for him and support him."
And when it comes to his own support, the indictments will "make it stronger," he said.
Interviews this week at the Iowa State Fair and on the campaign trail in this first-in-the-nation GOP caucus state showed that Republicans across the party spectrum, from Trump die-hards to his critics, see the indictments he now faces as largely politically-motivated or disproportionate responses to his actions. The Washington Post spoke to more than 20 people with varying political affiliations. Prosecutors overseeing the cases have defended their work and said they have acted on facts, not politics.
The Republican comments closely resembled the rhetoric used by Trump and many of his 2024 rivals to disparage the prosecutors and judges at the center of the cases and accuse them of trying to interfere with the campaign. They also reflect broader trends in the Republican race this summer: As Trump has taken on increasing legal peril, he has built a commanding lead in the polls of the GOP race nationally and here in Iowa, rallying support from rank-and-file Republicans with a combative and defiant pitch as his opponents struggle to break through.
At the same time, some Republicans here voiced concerns about the impact of the indictments on swing voters and others in the general election if Trump is the nominee, reflecting a quieter but still detectable unease some in the party have voiced as his legal woes have piled up.
"There's the always Trumpers, there's the never Trumpers, it's that middle or as we used to call them, independents," said Steve Oxford, 66, an Iowa Republican, who leans toward Sen. Tim Scott (R-S.C.), but would support Trump if he is the GOP nominee. "I don't see them voting for Trump, and I think that's going to make the difference," he said, adding that the indictments are "absolutely" a factor.
As Trump has repeated false claims about the election and portrayed himself as the victim of a "witch hunt," officials including Attorney General Merrick Garland have defended Justice Department special counsel Jack Smith's integrity, as he leads two probes into Trump. In Georgia, Fulton County District Attorney Fani T. Willis, a Democrat, made similar comments this week after the indictment there. "I make decisions in this office based on facts and the law," she said. "The law is completely nonpartisan."
But that has left many Republicans unconvinced, including Carol Weber, 77, a retired music teacher who lives in Ames, Iowa, and attended a Story County GOP dinner Tuesday evening. She said "it's time to move to a new Republican" but called the indictment "very unfair."
"I think that the Democratic Party wants to literally put him in prison or allow him not to run again," Weber said. "Why did they wait for three years for the indictments?"
In interviews, some Republicans who do not plan to support Trump for the nomination said they'd lost track of his legal entanglements and were fatigued.
Diane Vallejo from Perry, Iowa, described the indictments as "ad nauseam" and said she had tired of hearing about them.
"It just seems like they get through one, and they do another one," she said. Others expressed frustration about the indictments becoming a distraction from other topics, like the economy.
The latest indictment out of Fulton County, Ga., charges Trump in relation to efforts to overturn the 2020 election results. The investigation began two-and-half years ago, after audio leaked of Trump's call to Raffensperger. Trump has said he will be exonerated.
He has pleaded not guilty after being indicted in three previous cases, including Smith's federal case over his role in efforts to overturn the 2020 election and disrupt the transfer of power after Joe Biden's victory.
An AP-NORC poll released Wednesday found that 51 percent of Americans said they thought Trump did something illegal in his alleged attempt to interfere in Georgia's vote count in the 2020 election; 47 percent said he did something illegal in his role in what happened during the Jan. 6, 2021, attacks on the U.S. Capitol. Smaller shares said he did something unethical but not illegal or that he did nothing wrong.
But among Republicans, just 16 percent said they viewed Trump's alleged actions in Georgia as illegal; 26 percent said his behavior was unethical but not illegal; 31 percent said there was nothing wrong with it; and 27 percent said they did not know enough to say.
"I don't think he's innocent, but I don't think he's near as guilty as they're trying to make him out to be," Oxford said on a sunny Tuesday morning, while waiting to hear Scott speak with Republican Gov. Kim Reynolds at the fair. "I think if they scrutinized all politicians the way they've scrutinized Trump we would have nobody to vote for."
As Scott toured the fair Tuesday — taking selfies with fairgoers, playing catch, and grilling pork — he reiterated accusatory comments about the legal system "being weaponized against political opponents." Florida Gov. Ron DeSantis, Trump's main GOP rival, called the latest Georgia indictment a "criminalization of politics."
Trump has also been indicted on federal charges of mishandling classified information, and he was charged in New York earlier this year with falsifying business records related to hush money payments during the 2016 presidential campaign.
After the New York indictment, Trump received a boost among Republicans for the party's nomination, rising from 46 percent support in a Washington Post average of polls to 53 percent in May. His support hasn't shifted much in the wake of federal indictments over classified documents and his attempts to overturn the 2020 election. His support in general election polls also hasn't shifted much.
Some of the Iowans who spoke to The Post said they were more skeptical of this latest indictment due to the publication of a document that appeared to show charges against Trump before the indictment was announced. The clerk's office said no charges had been filed and that the document was not authentic. Instead, the clerk's office said it was conducting a trial run in anticipation of the indictment.
The interviews here this week, which included some Democrats, also highlighted the party-line divide over Trump's legal entanglements.
"I'm not surprised, and I'm glad to see that the justice system is working," said Tiffany Welch, 43, an independent who plans to support Biden in the general election. "We heard the phone calls, we heard the audio of this, we heard just how bad it was. And all the indictments are very important … but this is even more of just Trump having to go to no ends to retain control."
"I love it," added Gary Zabel, 67, an Iowa Democrat, referring to the latest indictment. Zabel said he believes Trump is "guilty" and that "it's all part of the same pattern." "It seems now if he gets indicted it improves his stances in the polls. I think people will get sick of it by the time the election comes around," he predicted.
Others voiced a different sentiment.
"I feel like we could waste less time on indicting each other and figure out government," said Taveis Stevens, 44, a Democrat who said he would likely not support Biden again. "I just think it affects the American public more than anything, and that's the hardest pill to swallow."
"There's just so much noise out there, that all the indictments seem the same," added Shirley Burgess, 71, an Iowa Republican who is undecided but likes tech entrepreneur Vivek Ramaswamy. "There are so many, in my opinion, more pressing issues … my give a s— factor is like minus 10 on this whole thing."
Scott Clement and Perry Stein contributed to this report.
This post appeared first on The Washington Post