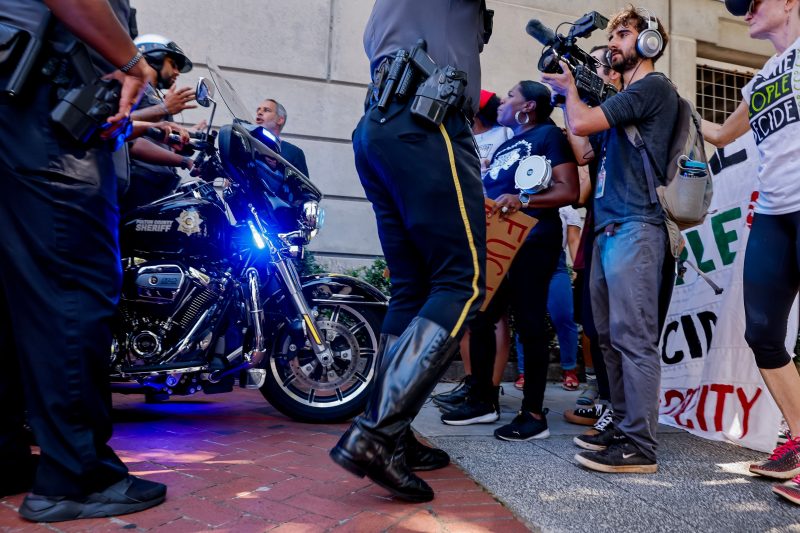 Atlanta 'Cop City' protesters indicted under law used to target mob bosses
A Georgia grand jury has indicted 61 people on racketeering charges connected to protests that seek to block the building of the planned police and firefighter training facility in Atlanta that has been referred by critics as "Cop City."
Georgia Attorney General Chris Carr (R) announced the sweeping indictment Tuesday after a long-running state investigation that mainly focused on members of Defend the Atlanta Forest, which prosecutors called an "anti-government, anti-police, and anti-corporate extremist organization" that has supported a violent movement against law enforcement since the 2020 racial justice protests.
The 109-page indictment was filed in Fulton County on Aug. 29, just weeks after the same grand jury charged former president Donald Trump with racketeering charges under the state's Racketeer Influenced and Corrupt Organizations (RICO) law, in connection with efforts to overturn President Biden's 2020 win in Georgia.
The "Stop Cop City" movement in the Atlanta area has focused on efforts to halt construction of the Atlanta Public Safety Training Center in DeKalb County. Critics have feared the facility will lead to greater militarization among Atlanta area police, as well as exacerbate environmental damage in a part of the state that is poor and majority Black.
But the attempts to block the 85-acre facility from being built have sometimes led to violence and vandalism, according to the indictment. Prosecutors have alleged that "militant anarchists" have thrown molotov cocktails at officers and intimidated the facility contractors and supporters of law enforcement.
Some of the activists charged under the state RICO law are already facing additional charges, such as arson and money laundering. Several activists are facing domestic terrorism charges stemming from the protests. Most of the defendants named in the indictment are not from Georgia.
"The 61 defendants together have conspired to prevent the construction of the Atlanta Public Safety Training Center by conducting, coordinating and organizing acts of violence, intimidation and property destruction," Carr told reporters. He added, "Our job is to enforce the laws of this state. As you can tell in this indictment, this is about violent acts, plain and simple."
The indictment was celebrated by Georgia Gov. Brian Kemp (R), who noted in a statement that his top priority was "keeping Georgians safe, especially against out-of-state radicals that threaten the safety of our citizens and law enforcement."
The charges were denounced by activists, including the Cop City Vote Coalition, describing the RICO counts brought by prosecutors as "anti-democratic" and "a clear assault on the broader movement for racial justice and equity."
"We will not be intimidated by power-hungry strongmen, whether in City Hall or the Attorney General's office," the coalition said in a statement. "Chris Carr may try to use his prosecutors and power to build his gubernatorial campaign and silence free speech, but his threats will not silence our commitment to standing up for our future, our community, and our city."
Each RICO conviction in Georgia could bring a potential sentence of five to 20 years in prison, or a fine of up to $25,000 or three times the amount of money gained from the criminal activity, whichever is greater. Convictions could result in both prison and a fine. Racketeering charges are traditionally used to indict mob bosses.
Designed to prosecute a criminal enterprise, the law has also been used against gang leaders and human traffickers. The Georgia RICO law is one of the broadest in the country. It allows prosecutors to weave together a wide variety of alleged crimes, including violations of state and federal laws, and even activities in other states. The charges brought against the activists is the latest example of Georgia prosecutors bringing racketeering counts in prominent cases.
In May 2022, Fulton County District Attorney Fani T. Willis (D) indicted rapper Young Thug and his associates under the RICO law. Prosecutors alleged that Young Thug, born Jeffery Williams, founded Young Slime Life, or YSL, which they said is a criminal street gang whose members were responsible for murders and other violence, and crimes such as drug dealing. His attorneys have argued that YSL is only the name of the record label. Last month, Trump and 18 others were charged after a 2½-year investigation by Willis. The indictment was the fourth to implicate Trump, and made him the first former U.S. president to face criminal charges.
Prosecutors have said the roots of the protests in Atlanta trace back to May 2020, in response to the murder of George Floyd by police in Minneapolis. In 2021, the Atlanta City Council approved legislation authorizing the Atlanta Police Foundation to build a training facility. The decision met with backlash from critics.
Since then, activists have been arrested for a variety of alleged crimes, including throwing rocks at police cars, vandalizing the Georgia State Patrol headquarters and setting a police vehicle on fire, according to the indictment. Tensions escalated in January after "Cop City" protester Manuel Paez Terán was fatally shot by police.
A report by the Georgia Bureau of Investigation said Terán, 26, "did not comply" with demands from patrol officers to come out from a tent on Jan. 18. Authorities allege that Terán shot and wounded a state trooper, which led to police opening fire. Relatives and loved ones said Terán had their arms raised and was no threat to police. An autopsy released in April revealed that Terán was shot at least 57 times. The Mountain Circuit District Attorney's Office has overseen the investigation since April.
The response to the killing was what prosecutors called a "Night of Rage" on Jan. 21 that led to arson, property damage and attempts to break into the offices of the Atlanta Police Foundation, according to the indictment. Some of the defendants were also linked to a demonstration on March 5 at the training center site that resulted in 23 people being arrested and charged with domestic terrorism. Prosecutors alleged that defendants threw rocks, bricks, molotov cocktails and fireworks at police officers. Thomas Jergens, a Southern Poverty Law Center staff attorney, was among those arrested in March.
In June, DeKalb County District Attorney Sherry Boston (D) withdrew her office from prosecuting cases connected to the training center. Boston mentioned the case of Jergens and cited her "prosecutorial philosophy" differences with Carr over how to handle the cases, according to an NBC affiliate in Atlanta.
Fulton County Superior Court Judge Scott McAfee, who is overseeing the RICO case involving Trump, was initially set to oversee the racketeering charges of the 61 people. But he recused himself after saying he had worked with the prosecutors before he was appointed to the bench. Fulton County Superior Court Judge Kimberly Esmond Adams will now oversee the case.
Carr said Tuesday the indictment shows that "looking the other way when violence occurs is not an option in Georgia." He added, "If you come to our state and shoot a police officer, throw molotov cocktails at law enforcement, set fire to police vehicles, damage construction equipment, vandalize private homes and businesses, and terrorize their occupants, you can and will be held accountable."
Activists such as Analilia Mejia and DaMareo Cooper, executive directors for the Center for Popular Democracy Action, told The Washington Post that the sweeping indictment was another instance in which lawmakers sought to "criminalize free speech and chill dissent." They said, "Make no mistake: These are political prosecutions in the name of getting more cops on the street to further persecute our communities."
Ben Brasch, Amber Phillips and Salvador Rizzo contributed to this report.
This post appeared first on The Washington Post