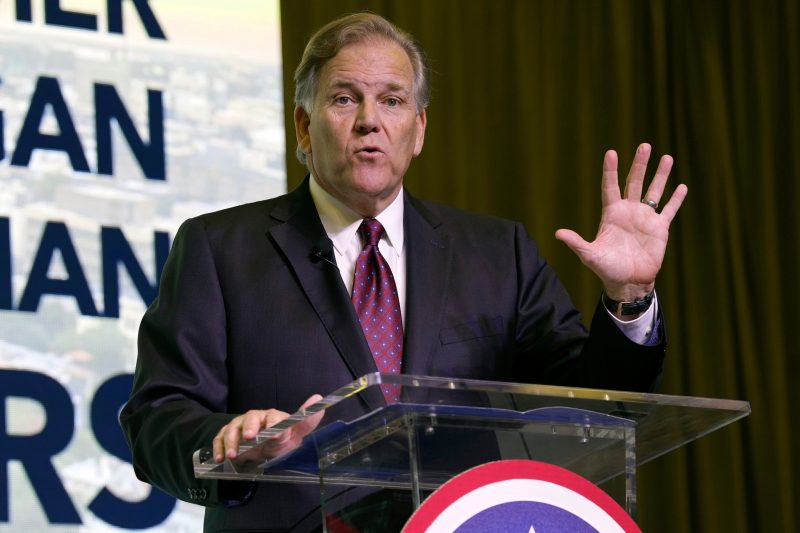 Former GOP representative Mike Rogers launches Senate campaign in Michigan
Former Republican congressman Mike Rogers has launched a campaign in Michigan for the U.S. Senate, seeking to give the GOP a viable path to flipping a seat held by Sen. Debbie Stabenow (D-Mich.), who is retiring at the end of her term.
Rogers, 60, was first elected to Congress in 2000 — narrowly defeating a Democratic challenger for a House seat vacated by Stabenow — and served seven terms. He was chairman of the House Intelligence Committee from 2011 to 2015, a period he described in his campaign launch video as "the hard years after 9/11."
Rogers decided not to seek reelection in 2014. After he left Congress, the Army veteran and former FBI special agent launched a podcast and became a consultant and commentator on national security issues.
"I left politics to help build cybersecurity companies that can stop foreign threats, like China," Rogers says in his campaign launch video. "I thought I put politics behind me. But, like you, I know something is broken."
In the video, Rogers slammed President Biden's policies, saying they were taking the country in "the wrong direction," and he accused schools of caring more about "social engineering" than "the three Rs — reading, 'riting and 'rithmetic."
Stabenow, 73, announced in January that she would not seek reelection in 2024 because she wanted to pass the torch to a new generation of leaders and spend more time with her family. Her decision prompted several Democrats to jump into the race, including Rep. Elissa Slotkin (D-Mich.), a former CIA analyst, and the actor and lawyer Hill Harper.
On the Republican side, former Michigan congressman Peter Meijer last week launched an exploratory committee for a possible Senate run. Meijer, who was one of 10 Republicans who voted to impeach President Donald Trump in January 2021, lost his GOP primary race last year. Former Detroit police chief James Craig, a Republican, also has said he is weighing a bid for Stabenow's seat.
Sen. Steve Daines (R-Mont.), the chairman of the Senate's campaign arm, said in a statement Wednesday that he is pleased to see Rogers running for Stabenow's seat.
"Mike is the type of candidate who can perform well with suburban Michiganders and be a strong part of the eventual ticket in Michigan," Daines said.
The Michigan Democratic Party criticized Rogers for his antiabortion stance, as well as for other policies, and predicted that he would not fare well in what is shaping up to be a crowded GOP primary.
"Michigan Republicans' nasty primary will leave them with a badly damaged nominee who is out of touch with Michigan families and will struggle in the general election," Michigan Democratic Party chair Lavora Barnes said in a statement. "Retread Mike Rogers quit on Michigan nearly a decade ago, but he won't be able to hide from his record."
This post appeared first on The Washington Post