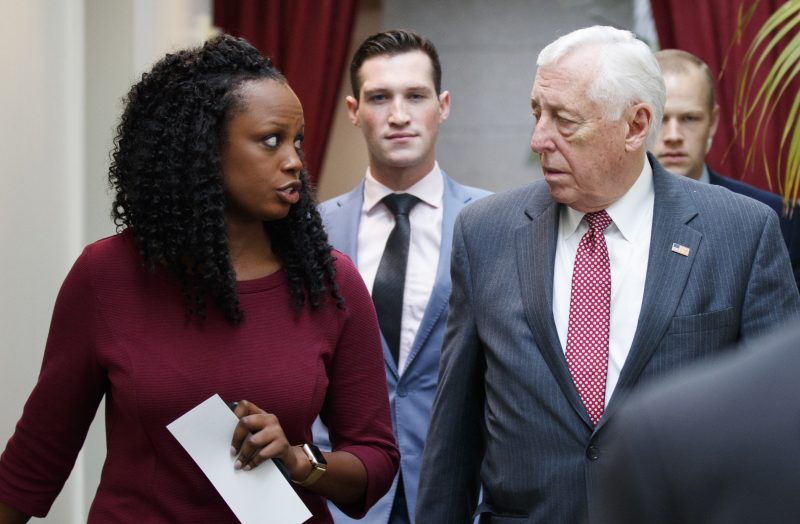 Biden announces Shuwanza Goff as new legislative affairs director
Citing her history of bipartisan work with members of Congress, President Biden announced Monday that Shuwanza Goff will serve as an assistant to the president and as the new director of the White House's Office of Legislative Affairs.
The 38-year-old is the first African American woman to be appointed to the position, which serves as the main point of contact between the White House and Congress. Goff — who previously served as the office's deputy director under Biden — will replace outgoing director Louisa Terrell.
The Biden administration faces upcoming work with Congress to reauthorize the Federal Aviation Administration and pass appropriations bills in the coming weeks to fund the government for fiscal 2024.
Biden highlighted Goff's deep connections with congressional lawmakers on both sides of the aisle.
"Shuwanza is a proven leader and trusted voice on both sides of the aisle," Biden said in a statement that accompanied the announcement. "She returns to the White House with strong relationships across both Chambers, forged over more than a decade on Capitol Hill."
As deputy director of the Office of Legislative Affairs, Goff led negotiations with congressional leaders on some of Biden's signature legislation — including the American Rescue Plan, the bipartisan infrastructure bill, and the Chips and Science Act — and also assisted in the confirmation process of Supreme Court Justice Ketanji Brown Jackson.
Before joining the Biden administration in 2020, Goff was floor director for legislative operations under then-Majority Leader Steny H. Hoyer (D-Md.), for whom she first started working in 2008. She also was the first African American woman to serve as floor director in the U.S. House.
A bipartisan group of lawmakers congratulated Goff on her appointment.
"Shuwanza is a friend and members of Congress on both sides of the aisle know that she is a policy professional with the experience and institutional knowledge of both the legislative and executive branch," House Speaker Kevin McCarthy (R-Calif.) said in a statement. "The White House is lucky to have her back."
Hoyer also commended his former aide on her new role.
"She has an unrivaled understanding of Floor procedure, Congressional politics, and the dynamics between the Legislative and Executive branches," Hoyer wrote in a statement. "Over the years, she became a close friend and one of my most trusted advisors."
Goff, Hoyer added, has "built and maintained" close relationships with congressional members and staffers of both parties.
"Even those with different politics respect Shuwanza for her trustworthiness and pragmatism," Hoyer wrote. "I am eager to see all that she will accomplish in this important new position."
On Monday, Senate Majority Leader Charles E. Schumer (D-N.Y.) said Biden's appointment of Goff is an "excellent choice."
"Shuwanza is respected on both sides of the Capitol for her brilliance and knowledge of the legislative process," Schumer said.
Goff departed her deputy position earlier this year to take a job with Cornerstone Government Affairs, a lobbying firm. House Minority Leader Hakeem Jeffries (D-N.Y.) also was among those who heralded her return to the Biden administration.
"Shuwanza Goff is a groundbreaking, dedicated and extraordinary public servant," Jeffries said in a statement. "She was central to the success of the administration during the first half of President Biden's term."
White House press secretary Karine Jean-Pierre told reporters Monday that Terrell, the outgoing director who first started working for Biden when he was in the Senate, will be missed.
"Since taking office, President Biden has relied on Louisa Terrell's Tyrell leadership of the Office of Legislative Affairs, and she has consistently delivered for the American people," Jean-Pierre said. "We will miss her dearly."
This post appeared first on The Washington Post