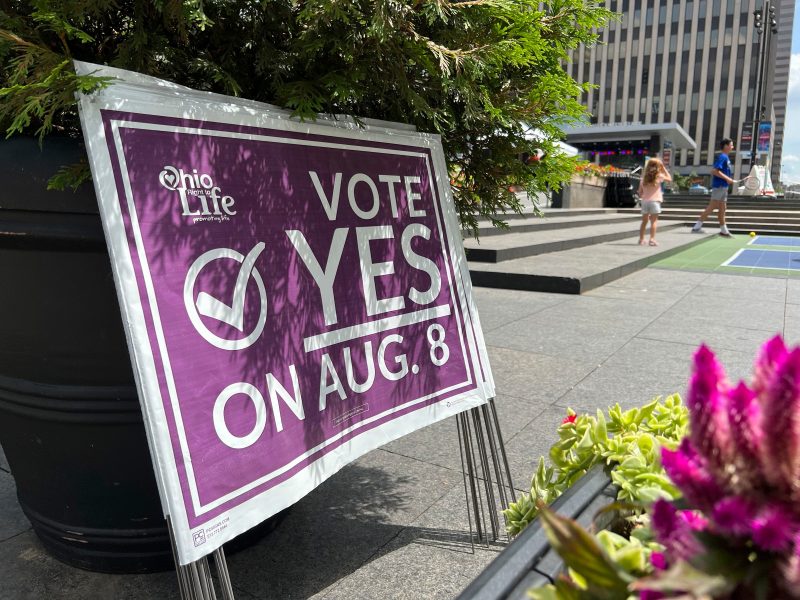 The Ohio GOP's bold abortion gambit has imploded
The year 2022 put Republicans in a pickle on abortion rights — and nowhere was that clearer than on ballot measures.
First, the Supreme Court overturned Roe v. Wade, leaving the issue to the states. But then every state in which the issue was put to voters directly wound up supporting such rights — and often by large margins. The six states included swing-state Michigan, but also red states Kansas, Kentucky and Montana.
That cued up what may be the biggest ballot-measure battle of 2023 — in Ohio, where Republicans quickly signaled they'd forge a brazen strategy to prevent themselves from joining the other states in enshrining abortion rights in their constitutions.
That strategy appears to be going up in flames.
Facing such a ballot measure, Ohio Republicans moved to raise the threshold for constitutional amendments to 60 percent, from 50 percent plus one. Ohioans will vote on this — via ballot measure — on Aug. 8.
(Ohio Republicans maintained the ballot measure wasn't necessarily about abortion, but it was evident that it was, and some have stopped pretending.)
It turns out that not only do voters overwhelmingly oppose changing the rules for amending the state constitution, but also that the abortion rights measure might have gotten to 60 percent anyway.
Suffolk University provided the data.
We learned last week that Ohioans opposed State Issue 1 — raising the ballot measure threshold, among other restrictions on the process — 57 percent to 26 percent.
Now Suffolk has released numbers on the abortion measure specifically, and the deficit for the GOP is similarly lopsided: Ohioans support the amendment 58 percent to 32 percent.
Those margins in increasingly red Ohio reinforce just how much of a political loser restricting abortion rights appears to be. To wit:
Independents overall support the abortion rights amendment 68 percent to 22 percent. And 85 percent of independent women support it.Even 32 percent of Republicans support the abortion rights amendment, compared to 57 percent who oppose it.
The poll also suggests the GOP's scheme to stop the amendment has gone poorly:
Just one-third of those who oppose the abortion rights amendment are also in favor of State Issue 1 — the two positions in line with antiabortion activists — while two-thirds of the amendment's supporters are against the rules change.Even Republicans are about evenly divided on State Issue 1, with 38 percent supporting it and 41 percent opposing it.
Views on State Issue 1 don't neatly overlap with views of the abortion amendment, and it's possible they could be brought more in alignment as people understand how interrelated they are in the coming weeks.
But for now, it seems as if a strong majority of Ohioans support the amendment — perhaps even enough to pass it if State Issue 1 were to somehow succeed. And even many who oppose it don't like the idea of diluting direct democracy to the extent necessary to get what they want.
As much as anything, the numbers in Ohio appear to confirm how this issue cuts when it's on the ballot. And that's significantly in abortion rights supporters' direction.
The closest analogues we have from 2022 are Michigan, Kansas and Kentucky.
In a 57 percent-to-43 percent vote, Michigan created a constitutional right to abortion. Kansas voters rejected a measure to remove abortion rights from its constitution, 59 percent to 41 percent. And Kentucky voters rejected an amendment saying their constitution included no right to an abortion, 52-48. (The Montana measure was narrower in scope than these.)
A 58 percent showing in Ohio would be in line with all of that. Michigan is swingier than Ohio, but it's also a neighboring state sharing many of the same political characteristics. And Kansas and Kentucky are redder, meaning it wouldn't seem inconceivable that support would be higher in Ohio.
It also bears emphasizing that the new Suffolk poll includes many undecideds — around 1 in 10 voters — so it's possible that the 58 percent could increase. If it did somehow eclipse 60 percent, it might be the strongest verdict from voters to date.
It's too early to say whether that will ultimately be the case. But given the gambit by Ohio Republicans, it would surely send a message.
This post appeared first on The Washington Post