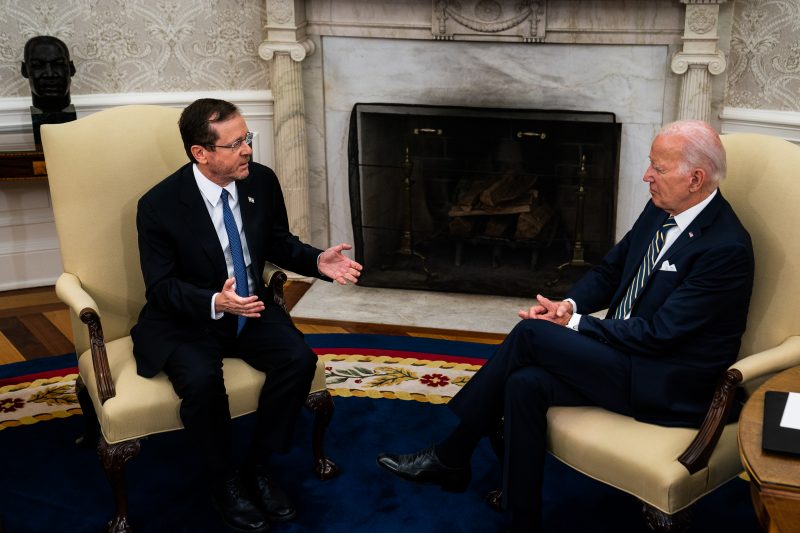 Biden wrestles with Israel's defiant turn to the right
The Israeli parliament parted ways with President Biden on Monday in taking its explosive vote to weaken Israel's Supreme Court, rebuffing weeks of pleas from the president not to do so without first building consensus and creating tension between the United States and one of its closest allies.
The White House responded by issuing unusually clear signs of displeasure with Prime Minister Benjamin Netanyahu's actions, as it sought to balance America's longtime support for Israel with increasing anger at Israel from within Biden's party and even among some in the American Jewish community.
"It is unfortunate that the vote took place today," White House press secretary Karine Jean-Pierre told reporters in a gentle but unmistakable rebuke. "It happened with the slimmest possible majority." While the U.S.-Israel relationship remains strong, she added, "The core of that relationship is certainly on democratic values — shared democratic values and interests, and that will continue to be the case."
While Israelis have taken to the street by the hundreds of thousands to declare the judicial overhaul vote "undemocratic," Jean-Pierre would use no such word.
In an early indication of how Biden will seek to navigate this diplomatic and political minefield, the White House said plans for the president to meet with Netanyahu sometime this year remain intact — but declined to specify when, where or how the two leaders might meet. The encounter is likely to take place sometime this fall, a National Security Council official said, speaking on the condition of anonymity to preview future events. The official added that "the details will be worked out by our teams to see what is feasible."
Recent shifts in American politics appear to be complicating Biden's position. Rep. Pramila Jayapal (D-Wash.) recently called Israel a "racist state," and it is clear a growing number of members of Biden's own party are questioning whether Netanyahu, at least, fully shares those values.
Jayapal apologized for her remarks, but while she declared in doing so that "I do not believe the idea of Israel as a nation is racist," she added, "I do, however, believe that Netanyahu's extreme right-wing government has engaged in discriminatory and outright racist policies."
Republicans — seizing the moment to question whether Biden is supporting Israel strongly enough — held a vote after Jayapal's comment to reaffirm U.S. support for Israel, a resolution that passed with an overwhelmingly bipartisan vote.
In the lead-up to the contentious vote, Biden last week welcomed Israeli President Isaac Herzog to the White House and restated his strong support for the Jewish state. Still, Herzog's role is largely ceremonial, and Biden's invitation contrasted pointedly with his approach to Netanyahu, whom he has not invited to Washington since he regained the prime minister's office last November.
As Netanyahu has pressed ahead with his judicial reforms, in part at the urging of his right-wing coalition partners, Biden has spent weeks trying to navigate the increasingly turbulent moment in the U.S.-Israeli relationship. Biden has been a staunch supporter of the Jewish state for 50 years, often recounting his meeting with former prime minister Golda Meir, and he shares the view of many U.S. politicians that Israel is a vital democratic ally in an often-hostile region.
But Netanyahu's moves, which could greatly weaken the independent judiciary, have challenged Biden's agenda of promoting democracy, putting the president in a difficult situation as he seeks to rebuke Netanyahu while affirming his support for Israel itself.
Before Monday's vote, Biden found various ways to signal his displeasure without issuing an overly harsh statement. He told New York Times columnist Thomas L. Friedman, for example, that his "recommendation to Israeli leaders is not to rush." On other occasions, he has said simply that in democracies it is best not to make fundamental changes unless they have widespread support.
For the moment, a significant alteration in U.S. policy toward Israel appears unlikely.
Israel has been Washington's biggest foreign aid recipient since the Jewish state's founding in the aftermath of World War II, most of it through military aid. A standing memorandum of understanding between the two countries provides for an annual average of $3.8 billion in military and defense aid through 2028, according to a report this year by the Congressional Research Service.
This is not the first time American politicians and activists have raised serious concerns about Israel's conduct. But that has never been enough for lawmakers or the White House to take significant steps toward cutting aid.
The Washington Post and other outlets reported in 2021 on the use by several nondemocratic governments of Israeli-developed Pegasus spyware to hack the phones of journalists and political dissidents. Israel's top three defense export markets — India, Azerbaijan and Vietnam — have independently drawn scrutiny from human rights organizations for their own abuses.
More recently, some lawmakers, including Sen. Lindsey O. Graham (R-S.C.), have complained that Israel has not shown enough support to Ukraine since the Russian invasion in 2022. Israel has rebuffed Ukrainian requests for broader military assistance, including advanced missile defense systems, citing a desire to avoid an Israeli conflict with Russia.
And liberal activists are increasingly vocal about Israel's policy toward the Palestinians, including the construction of a large number of settlements in the occupied territories, which they say puts a two-state solution increasingly out of reach.
Monday's vote by the Israeli Knesset, or parliament, stripped the Israeli Supreme Court of its power to overturn government decisions for being "unreasonable." In the absence of a written constitution or a bicameral legislature, that power has been a key check on a ruling coalition's ability to force measures through the Knesset, including by a very narrow majority.
Supporters of the judicial overhaul say it promotes democracy, elevating the power of elected lawmakers over unelected, elite judges. Monday's action was just the first step, they add, saying they also plan legislation allowing the Knesset to overturn court opinions with a simple majority.
The Supreme Court has long been an irritant to Israel's right wing. But Netanyahu's overhaul has torn the country apart, with hundreds of thousands of Israelis pouring into the street for months of angry protests. Numerous reservists have said they will not report for duty if the law went through, an unprecedented gesture in a country that puts the military at the center of its national life.
While liberal Democrats have become more willing to criticize Israel, Republican figures, backed by evangelical leaders, have embraced the Jewish state all the more closely. David Friedman, who served as U.S. ambassador to Israel under President Donald Trump, said in an interview that Biden's reprimands of Netanyahu were a "mistake from the get-go," given Israel's precarious position in the Middle East.
"Israel just needs a friend," Friedman said. "Support them, help them, make sure they have what they need to defend themselves and to meet their security requirements. Make it clear there's no daylight between America and Israel. And maybe behind the scenes you can be encouraging."
The administration has framed Biden's comments as the kind of honest criticism that can only be made by close friends whose underlying bond is unquestioned. Secretary of State Antony Blinken told NBC that Biden's public remarks reflect what "he's shared privately on several occasions with different leaders in Israel."
"President Biden, more than anyone I know, is in his gut committed to Israel's security, and that will never change," Blinken said Friday. "But as such close partners and friends, we share the concerns that we have with Israel, and I think it's also born of our own experience as democracies."
Netanyahu had a notably fraught relationship with former president Barack Obama, whom the Israeli prime minister famously offended in 2015 by delivered an address to a Republican-held Congress condemning Obama's forthcoming Iran nuclear deal. Tensions between the two leaders simmered publicly during the Obama administration over the Iran deal and over Washington's displeasure with Israel's expansion of settlements in the occupied West Bank and its use of deadly force against Palestinian civilians in the Gaza Strip.
Obama and Netanyahu each, at turns, snubbed each other's meeting invitations. And the acrimony culminated when the United States abstained from a 2016 U.N. Security Council resolution calling for an immediate halt of Israeli settlement construction in occupied Palestinian territory — the sort of resolution the United States consistently vetoed in the past.
But through all that, the flow of aid from the United States to Israel remained strong. And the Obama administration in 2016 signed the current 10-year memorandum of understanding with Israel, which pledges $38 billion in U.S. military assistance from 2019 to 2028 — the largest such security assistance package to date.
Still, there is little doubt the U.S.-Israel relationship is changing, a seismic if slow-moving shift in American politics and diplomacy. For decades, the emotional bond between the two countries was powered in part by Israel's creation shortly after the Holocaust, when it was widely seen as a crucial haven for a long-persecuted people.
In recent years, Israel has become more powerful, its treatment of the Palestinians has become more controversial, and its government has moved sharply to the right. Netanyahu was central to all these shifts, at times openly aligning himself with the GOP — prompting a growing number of Democrats to openly criticize Israeli policies. Dissent, too, has cropped up more often in the American Jewish community.
Biden has long been viewed as an old-school Democratic Israel backer, coming from a time when support for Israel was more bipartisan than ever.
"Biden's experience with Israel is an Israel that just doesn't exist any longer," said Steven Cook, a senior fellow for Middle East and Africa Studies at the Council on Foreign Relations.
Cook and other experts said Netanyahu is a savvy operator with the political acumen to get what he wants despite the public disagreement with Biden. But they also warned that the Israeli prime minister could be misjudging the current moment.
Shalom Lipner, senior fellow for the Middle East Programs at the Atlantic Council, said Monday's vote is a "watershed moment," and it would be wise for Netanyahu to pay attention to how public opinion forms, especially in the United States, where a growing share of Democrats have expressed doubts about the direction of Israel.
The decision by Netanyahu to move so clearly toward the Republican Party was a strategic error, he added.
"It would be shortsighted of Israeli decision-makers to put all their eggs in one basket," Lipner said. "I don't think the Israelis want to be in a situation where there's a Democrat in the White House and they broke those ties."
Abigail Hauslohner contributed to this report.
This post appeared first on The Washington Post