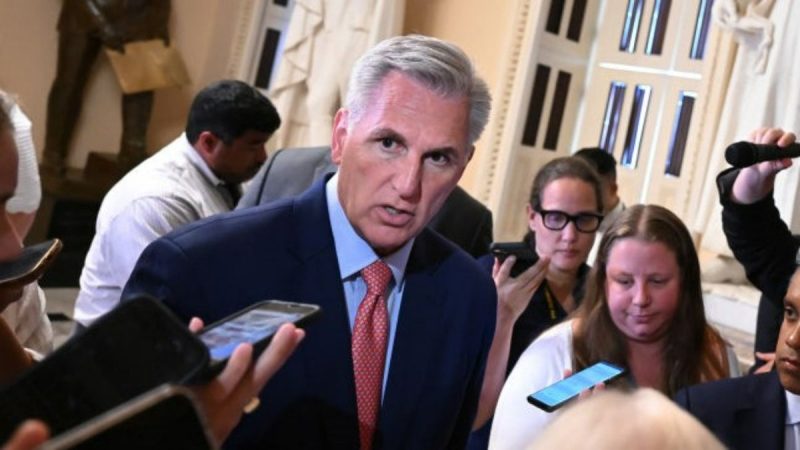 Crystal clear: Forecast for possible government shutdown is murky
I have a parliamentary crystal ball for how September may go on Capitol Hill.
That doesn't mean I have many answers.
Like most crystal balls, they are limited in their accuracy. They won't give you the full story. But they will absolutely nail some aspects.
No. The crystal ball cannot definitively predict whether the government will shut down Oct. 1, the start of the federal fiscal year. In fact, information from the crystal ball surrounding that very question is especially cloudy.
THE HITCHHIKER'S GUIDE TO MCCONNELL'S HEALTH AND A POTENTIAL GOVERNMENT SHUTDOWN
Impeachment of President Biden? Or Homeland Security Secretary Alejandro Mayorkas? Or Attorney General Merrick Garland?
Just as hazy.
But the crystal ball does forecast the following:
The Senate will advance a few individual appropriations bills in the coming weeks. And House Speaker Kevin McCarthy, R-Calif., will try to advance a fig leaf, interim spending package that appeases the right. The House Freedom Caucus and other conservative members will demand various provisions that either trim spending, address the border or wrestle with potential impeachment. 
McCarthy's bill won't actually be what Congress settles on to fund the government. In fact, one can't even technically call it a 'Continuing Resolution' or 'CR' if it cuts funding or addresses ancillary issues important to Republicans. By its nature, a CR sustains funding at present levels so the government doesn't shutter. But McCarthy will have made his point.
However, what's murky in the crystal ball is whether McCarthy and House Republicans can later digest a CR from the Senate that doesn't address any of their priorities just to keep the government funded.
However, the crystal ball is crystal clear about one thing: If the House doesn't eventually swallow a bipartisan CR from the Senate, there will be a government shutdown.
That's as definitive as anything we've drawn from the crystal ball.
So, here are some of the machinations surrounding a potential government shutdown and possible funding measures over the next four weeks.
The Senate is back from its summer recess a full week ahead of the House. Senate Majority Leader Chuck Schumer, D-N.Y., notes that the Senate cleared 12 appropriations bills in committee before the recess. So, he'll deposit three of those on the floor soon.
'All 12 appropriations … have been reported out of the committee with bipartisan support. Some of them, many of them, were with unanimous, bipartisan support,' said Schumer. 'Now, that doesn't mean everyone agreed on everything. It sometimes means something more important. It means that disagreements haven't paralyzed the process.'
Schumer scored backup from Senate Minority Leader Mitch McConnell, R-Ky.
'Congress needs to address our nation's most pressing needs with timely appropriations. And we need to keep the lights on come Oct. 1,' McConnell said.
Before the recess, the full House OK'd only one of its 12 spending measures. So, this is a chance for the Senate to get ahead of the House and inoculate it from criticism it hasn't passed any appropriations bills.
But Schumer understands the stark reality. No matter what, the solution to averting a government shutdown is for the House and Senate to pass some sort of interim spending bill that keeps the federal lights on for a few weeks, if not a couple months. And the only tangible recipe to make that work? A Band-Aid bill can only pass with a coalition of Democrats and Republicans.
McCarthy doesn't need a crystal ball to understand that a bipartisan, temporary bill is the route too. He's indicated to House Republicans a stopgap bill is necessary right away, asserting that the GOP will fight for deep spending cuts with the 'real' bills later.
But McCarthy hasn't addressed something else that is clear in the crystal ball. It remains unsaid because it's politically radioactive: A clean CR likely requires a substantial chunk of Democratic votes in the House. In fact, it may score far more Democratic votes than GOP votes.
'We all agreed a CR is the best way to go,' Schumer said of a meeting he had with McCarthy about government funding. 'He's going to have a rough time implementing it.'
That's why a clean CR with substantial Democratic support is politically the most malignant bill to McCarthy.
House conservatives will bray if McCarthy defaults to that position – even if he goes through the proper motions to appeal to the right on impeachment, spending cuts or border policy. However, McCarthy likely needs to embrace some of these appeals by the right if he wants to stay in good graces with the House Freedom Caucus.
But the second McCarthy dials back from those positions …
If he dials back from those positions …
That's why the crystal ball can't predict if there might be a government shutdown.
This boils down to the math.
The current breakdown in the House features 222 Republicans to 212 Democrats with one vacancy. In other words, Republicans can only lose four votes from their side and still pass a bill without Democratic assistance. More Democrats voted for the debt ceiling pact with President Biden in the spring than Republicans. And conservatives haven't let McCarthy forget it.
But it gets worse for the GOP.
House Majority Leader Steve Scalise, R-La., could miss some time for his cancer treatments. And Rep. Chris Stewart, R-Utah., resigns effective Sept. 15. So, that could mean Republicans are effectively operating with only 220 members. That drops the GOP margin to three votes.
The biggest roadblock for putting any piece of legislation on the House floor is what's known as the 'rule.' The House Rules Committee is the gateway for most bills to get to the floor. The Rules Committee and the entire House must first adopt a 'rule' before considering legislation. The rule determines the parameters for debate on a given bill. But if the Rules Committee or entire House fails to approve a rule, the bill can't come up for debate.
This could be nettlesome for McCarthy with Ralph Norman, R-S.C., Chip Roy, R-Texas, and Thomas Massie, R-Ky., serving on the Rules Committee.
That said, there is a way to skate around the Rules Committee on a CR that simply renews all old funding on a temporary basis.
The House can bypass the Rules Committee by putting a 'privileged' Continuing Resolution on the floor after Sept. 15. 'Privileged' means the resolution is written in a manner that whisks it to the front of the legislative line. 
Granted, such a 'privileged' CR is subject to multiple points of order on the floor. That could be messy enough. But such an option to skip a step does exist in the House quiver.
Will that scenario unfold?
The crystal ball has not even considered the 'privileged' CR option because it is obscure.
So, what's going to happen? I have no idea. And frankly, neither does the crystal ball.
I asked the crystal ball about its future in congressional soothsaying.
The response? Foggy at best.
This post appeared first on FOX NEWS