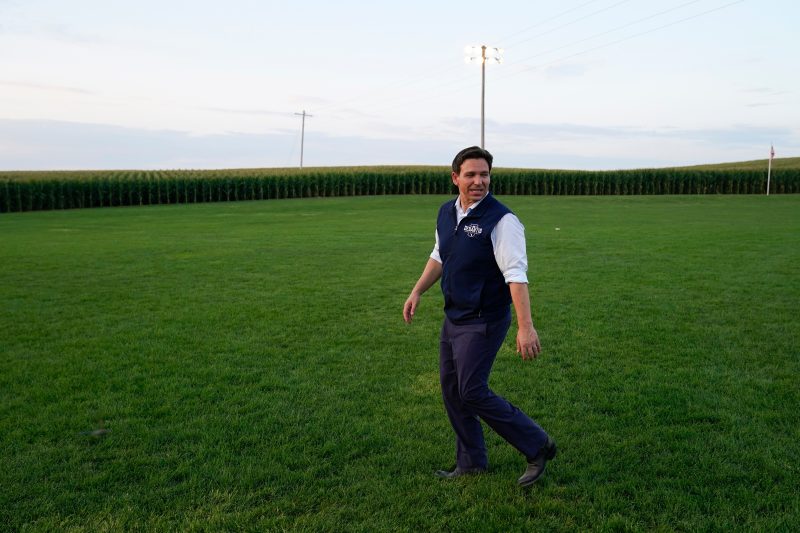 DeSantis is in growing trouble. He's betting big on Iowa to rescue him.
DES MOINES — During the summer a canvasser for Ron DeSantis knocked on the parsonage of St. Olaf Lutheran Church in Bode, Iowa — population roughly 300 — and asked the pastor what she thought of the Republicans running for president.
The pastor said she liked DeSantis. Soon she was recruited.
The Florida governor showed up at the door last month with his family for a home-cooked meal complete with Iowa corn. On Saturday, she drove two hours to see him again, huddling around DeSantis for a prayer at a church event. "I'm not that political of a person," said the pastor, Joyce Schmidt, 70, laughing a bit at her involvement. "But all of a sudden … "
The courtship illustrates the organizing underway as DeSantis banks heavily on evangelical Christians, far-flung campaigning and intensive fieldwork to revive the long-shot hopes of his struggling bid to best former president Donald Trump, who holds a widening lead over him in national and early-state polls.
Abandoned by some of his largest donors, bashed by House Speaker Kevin McCarthy (R-Calif.) and polling behind other Trump alternatives in New Hampshire and South Carolina, DeSantis and his allies are increasingly focused on Iowa — where Trump has alienated prominent Republicans such as Iowa Gov. Kim Reynolds and this past week denounced the six-week abortion bans that Iowa and other states have passed.
But past insurgent campaign victories have also rested on candidates' ability to forge a personal connection with caucusgoers, local Republicans said. DeSantis was a brusque emcee at times during the Saturday church event, and his efforts to woo voters face-to-face have repeatedly spawned viral videos of terse and distant interactions.
DeSantis has also run up against a singular loyalty to Trump, whose popularity with Republicans appears immune to faux pas, scandals and criminal indictments that would tank another candidate as polls show him far ahead in Iowa. Brad Cranston, who along with Schmidt is a member of DeSantis's recently announced faith coalition, lamented that "as each day slips by," DeSantis and other Trump challengers don't seem to be gaining ground.
"That's the reality of it," said Cranston, the Iowa-based founder of Baptists for Biblical Values. "I try to live in 'Realville.'"
Pursuing a strategy with many echoes of recent GOP caucus winners such as Sen Ted Cruz (Tex.), and aided by some of the same operatives who helped orchestrate a late surge over Trump, DeSantis allies think that if the governor can beat Trump in an early 2024 state, that would puncture the feeling among Republicans that Trump is the inevitable nominee and will force some other candidates to drop out. The calculation has turned the Hawkeye State into an Alamo of sorts for DeSantis, who has traveled much less to New Hampshire and South Carolina. While DeSantis advisers say they are prepared for a long fight, multiple people close to the governor say he has to perform well there or his campaign is effectively over.
It is an uphill battle. Asked how he'd try to persuade Trump supporters to back DeSantis, Cranston was blunt.
"I'm not sure they want to listen at this point," he said.
The battle for Iowa's evangelical communities was palpable last weekend at Soteria Des Moines, where the more than 1,000 congregants include Bob Vander Plaats — a prominent voice in the primaries who is openly critical of Trump and has drawn public and private ire from the former president. DeSantis accompanied Vander Plaats to a Sunday service last month and chatted with voters in the chic lobby complete with a coffee bar.
"I'll say what everybody says — he's kind of everything Trump was without being Trump. I mean, a straight shooter," said Lyle Veach, an HVAC technician who met DeSantis there and recalled asking him how he'd deal with "lies" from the news media.
Cruz narrowly beat Trump in Iowa in 2016 with strong showings among rural voters and with evangelical voters who made up nearly two-thirds of that year's caucusgoers, Like past victors Mike Huckabee and Rick Santorum, who also failed to win the GOP nomination, Cruz appealed to religious conservatives and built a large turnout operation and attacked Trump as liberal on social issues, especially abortion. DeSantis is trying something similar. With an assist from Reynolds — who recently accompanied DeSantis to a football game attended by multiple 2024 candidates — he ramped up attacks this week on Trump's approach to abortion, responding to the former president's comments the past weekend calling a six-week ban DeSantis signed in Florida "terrible."
DeSantis is trying to connect in other ways. On Saturday, standing in front of a towering wooden cross at Fort Des Moines Church of Christ, DeSantis decried "the religion of leftism" and the views of three liberal-leaning justices on the Supreme Court. Rep. Mariannette Miller-Meeks (R-Iowa) took the podium next for a fiery speech that hit many of DeSantis's common targets, including "this new religion of transgenderism." The pastor at Fort Des Moines, Michael Demastus, said he prayed with DeSantis and his wife backstage before the first GOP debate.
One by one, guests came up to describe workplaces hostile to their religion, pressure to perform same-sex weddings, or mandates to get the coronavirus vaccines that DeSantis bashes. One of them, Navy Lt. Cmdr. Levi Beaird, grew emotional as he recounted punishment for refusing to get the shot.
His story drew gasps of disgust, at least one cry of "Jesus!" and the most rapt applause of the day — a standing ovation — after he choked up.
But DeSantis moved along brusquely when Beaird finished, presenting an odd contrast that underscored how stiff he can appear on the trail. "Great, thanks so much," he said. "Okay, we have pastor Alfred Johnson … "
DeSantis supporter Steve Deace, an Iowa-based conservative commentator who also backed Cruz in 2016, said the governor "would benefit from a better understanding of the patronage aspect of politics." Deace gravitated easily to DeSantis because of his record in Florida but said he didn't have a lengthy one-on-one conservation with the governor until the day he endorsed — and observed dryly that "Ron DeSantis pursued me less than anybody I've ever endorsed in my entire life."
"A lot of people are not like me — a lot of people do need that kind of connection," he said. Deace also suggested DeSantis should talk more about how faith plays a role in his personal life: For example, wife Casey DeSantis's fight with breast cancer. The governor did that on Saturday evening at the Iowa Faith and Freedom Coalition dinner, a showcase for 2024 candidates that Trump skipped. But the crowd didn't appear bowled over by DeSantis or any other presidential contender who spoke.
They seemed "more excited about Ashley Hinson's fiddle," said one GOP operative present, referencing an Iowa congresswoman's musical performance.
Officials from Never Back Down, a pro-DeSantis super PAC that has taken on many traditional campaign responsibilities, think there are about 217,000 Iowa Republicans likely to caucus, and Trump has about 30 to 35 percent of them locked down. They think they can locate and woo the others with extensive digital, door-knocking and community-led efforts.
The organization has rolled out local chairs in all 99 counties, says it has knocked on hundreds of thousands of doors, and is showering the state with ads until Halloween.
"In Iowa, you need to build an organizational structure that is block-by-block, neighbor-by-neighbor and precinct-by-precinct. … The disadvantage the former president is in is that he didn't do that in 2016," said Kristin Davison, the chief operating officer of Never Back Down. "He didn't win. He didn't have to do it in 2020."
The DeSantis team says the value of that organizing won't be fully clear until caucus night, when it pays off in turnout. David Polyansky, a former Cruz adviser who worked for Never Back Down and then became DeSantis's deputy campaign manager, said on-the-ground organization in his experience leads to a notable boost at the polls — the kind of surge Cruz saw after the last round of public surveys before the caucuses.
"We have the only candidate that can beat both Joe Biden and Donald Trump," said DeSantis campaign manager James Uthmeier. "And the team and robust ground game ready to go the long haul."
But other GOP operatives said DeSantis is not Cruz. He does not have the same deep Christian community ties and they don't think he evokes the same passion among evangelical voters. And the current race is far more lopsided than in 2016.
While Trump is overwhelmingly ahead, said Iowa pollster Ann Selzer, many Iowa voters said they viewed DeSantis as the second-best candidate — or were at least open to considering his candidacy — in follow-up questions for a poll she did in the state.
"There's opportunity for DeSantis, but he's got to work for it," Selzer said.
Trump and his team have noticed DeSantis's attention toward the Hawkeye State. The former president made his seventh trip to Iowa since May on Wednesday, and advisers say he has four more trips planned in the next month. In that same time period, Trump has only been to South Carolina and New Hampshire twice each.
There is some concern in Trump's circle about Iowa, according to three people close to the former president, and political adviser Chris LaCivita closely monitors the happenings in the state, said two of these people, who like others spoke on the condition of anonymity to describe private conversations or thinking.
Trump advisers tout their large polling advantage and crowds in the state. "When you're losing 20-plus points and desperate," LaCivita said, "we generally don't find those people worthy of responding to."
A Republican organizer in the state who opposes Trump offered a different perspective, saying they didn't see evidence of the commitment and framework needed to win the state. "They're relying on brand and momentum. That has not historically been a recipe for success," said the organizer.
Still, the enthusiasm for Trump was clear this week as he barnstormed back into eastern Iowa. His supporters lined the highway to wave flags or pulled over to record the former president's motorcade. One family waved from a flatbed truck as Trump passed.
On his way to the airport, Trump stopped at the Treehouse Pub restaurant in Bettendorf, where he signed the shirt and forearm of the owner's daughter while her family watched proudly. The former president passed out pizzas to chants of "We love Trump!"
"With Trump, we've seen the results," said Al Richmann, who attended a Maquoketa event wearing a "Thin Blue Line" cap and a T-shirt with Trump's mug shot captioned "Never Surrender." "I've listened to them all," he said of the other candidates. "The rest are Trump-lite."
The effect of Trump's public clashes with Reynolds is another variable in the race. Trump's advisers say he only attacked her after deciding she was privately for DeSantis, though he was encouraged not to attack Reynolds by his team and went ahead anyway with a social media broadside this year. But they also say they have polled a potential endorsement of DeSantis from Reynolds and that it does not move the needle much in Iowa.
DeSantis's focus on Iowa comes as he and his allies have pulled back or placed less emphasis on other states. DeSantis has traveled less frequently to other key battlegrounds like South Carolina and New Hampshire, and Never Back Down said last month it had ended its door-knocking operations in Nevada and some Super Tuesday states.
Andrew Romeo, a campaign spokesman, said DeSantis will be back in New Hampshire by mid-October. Never Back Down has extensive door-knocking efforts ongoing in New Hampshire and South Carolina, where it also recently rolled out a faith coalition and a parents' coalition.
But Jim Merrill, a prominent operative in New Hampshire, said DeSantis seemed to have scaled back efforts there.
"It feels like a lighter touch from them the last month or two. It feels like there is less public-facing activity here. The DeSantis campaign not only through their words and deeds seems to be focused on Iowa," Merrill said.
The pro-DeSantis mailers that blanketed South Carolina earlier in the race have slowed, said Katon Dawson, a former chairman of the South Carolina GOP who is backing former U.N. ambassador Nikki Haley for the presidential nomination. "DeSantis spent a lot of money early on and didn't get much for it," Dawson said.
A DeSantis adviser described the strategy like this: "We're still doing things in New Hampshire. He's been to South Carolina a few times. But it'd be goofy to say the preponderance of the resources are not being spent in Iowa. There is a belief by him and others in the campaign that the evangelical community gives him a good shot there, and Kim Reynolds is going to help," the adviser said.
This person said DeSantis needs to come in first or second in Iowa and then hope others drop out.
The Iowa strategy is driven in part by Jeff Roe, now a top strategist at Never Back Down, who oversaw Cruz's 2016 win in the state. "We should not have beaten Trump," said Deace, who was highly involved. "He should have won. But our organization was so superior."
At the same time, he acknowledged that the network DeSantis is building in Iowa can only get him so far.
"The candidate has to go in there and make the sale. … If he goes in there and doesn't close the sale, then that's on him," Deace said.
This post appeared first on The Washington Post