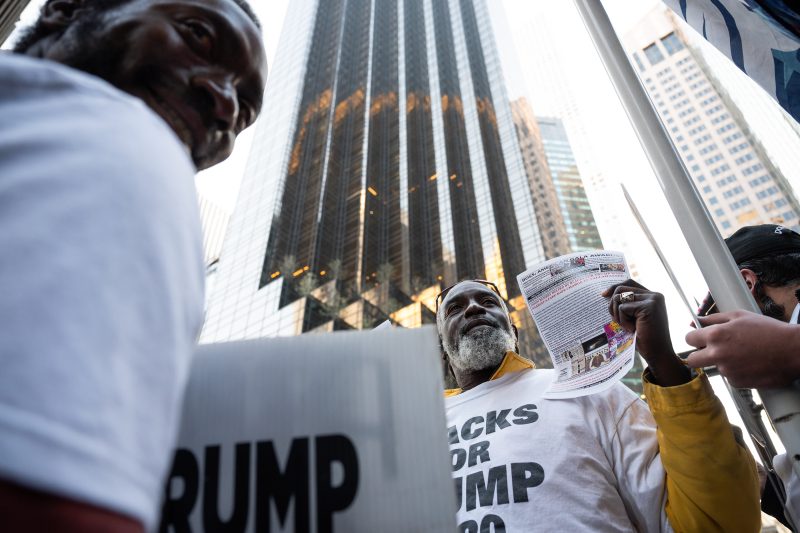 Donald Trump's eternally unrealized dream of swaying the Black vote
One of Donald Trump's most insightful assessments of his relationship with Black voters came a few weeks after he won the 2016 presidential election.
"In the end," Trump said in an interview with the New York Times, his opponent Hillary Clinton "didn't get the African-American vote and we ended up close to 15 points, as you know. We started off at one, we ended up with almost 15."
"And more importantly," he continued, "a lot of people didn't show up, because the African-American community liked me. They liked what I was saying. So they didn't necessarily vote for me, but they didn't show up, which was a big problem that she had."
This was true. Analysis released in 2018 showed that millions of people who'd backed Barack Obama's reelection in 2012 failed to vote in 2016. A third of them were Black.
Once he was president, Trump's pitch changed. His campaign-trail rhetoric about giving him a shot demanded that he present a picture of success. So he and his team created one, pointing to things like low unemployment and specific items of legislation to declare that his was the most beneficial presidency for Black Americans since Abraham Lincoln. It's hard to know the extent to which Trump himself believed this pitch, but a lot of his supporters embraced it.
It's also hard to know the extent to which this was rationalization, an effort to rebut criticisms of his approach to race by insisting that Black Americans loved him. If Black Americans supported Trump in large numbers despite his history of controversial and explicitly racist comments, it suggests that those comments were overblown in importance by a left that is seen as using race as a cudgel. It would, in essence, validate a lot of White grievance politics.
Trump's still trying to make this pitch.
On Tuesday, he posted a celebratory statement on social media.
"MINORITY VOTERS ARE ABANDONING CROOKED JOE BIDEN & THE DEMOCRAT PARTY FOR 'TRUMP,' ' he wrote. "THANK YOU, A VERY WISE DECISION!"
The apparent trigger for this statement was analysis from the Times showing a softening of support for President Biden among non-White Americans. In Times polling conducted by Siena College, Biden's support from Black and Hispanic Americans has slipped.
Polling of voters in recent elections conducted by Pew Research Center shows such a shift among Asian and Hispanic voters as well as Americans who are multiracial or fall into other racial categories. The lines below mostly move to the right since 2018, showing more favorable margins for Republican candidates in House or the presidential election.
The Times data shows a progression of this shift in recent polling looking at a 2024 rematch of Trump and Biden. Hence Trump's celebration.
His allies continue to suggest that this is a function of Trump. After he was arrested in Georgia last month, Trump allies posited that his mug shot was somehow a moment of inspiration for Black Americans, an obviously fraught suggestion. Trump on Tuesday also shared a post on Truth Social featuring an interview with a Black Trump supporter; the person sharing the video pointed to Trump's 2020 campaign patter as reasons for Black Trump support. The person in the video had a more personal reason to support Trump, though: As president, Trump had granted him clemency.
All of that aside, there are real questions about the extent to which non-White Americans and Black Americans in particular will remain consistent Democratic voters over time. It's worth remembering that the alternative here isn't necessarily that they become Republican voters. It may be that those potential voters simply don't vote at all.
There's a calculus that applies here, as political campaigns are aware. Flipping a vote from your opponent is a net gain of two votes in the final margin: You gain a vote and your opponent loses one. But getting a supporter of your opponent to stay home is a net gain of one vote: Your opponent simply loses one. That's what Trump was celebrating in late 2016.
It's already the case that Black, Hispanic and other non-White voters make up disproportionately less of the electorate than do White voters. To some extent this is a function of age: Older Americans are more likely to be White, and older Americans are also more likely to vote. It is also a function of systemic challenges from immigration status to obstacles for lower-income Americans to cast ballots (like less consistent housing or work schedules).
Some of it is also disinterest, of course. Polling released on Wednesday by USA Today, conducted by Suffolk University, assessed the composition of people who identify themselves as unlikely to vote.
"They are disproportionately people of color," USA Today's Susan Page and Ken Tran write. "While exit polls of voters found that whites comprised 67% of the electorate in 2020, they are only 51% of the nonvoters in this survey. Black voters made up 13% of the 2020 electorate but 15% of the nonvoters. Latinos were 13% of those who voted in the last presidential election but 18% of nonvoters."
Among Americans overall, including Black voters, there's also been a move away from party identification. Analysis of the General Social Survey shows how the percentage of Black Americans identifying as independents or members of third parties has increased, particularly in recent years.
Here, again, is the alternative: Disaffection with a party doesn't mean alliance with the other party. In fact, many independents who lean toward one party or the other do so less because they like the party they lean toward and more because they dislike the opposition. Someone who's indifferent about Biden isn't necessarily someone who likes Trump.
But Trump (and other Republicans) will take the net gain of one even if they don't get the net gain of two.
That is the subtext to Trump's comments in late 2016, incidentally. A few weeks before the election, Bloomberg reported on the Trump campaign's efforts to swing turnout — including an effort to suppress turnout among Black voters.
Whether that effort was particularly robust or successful doesn't really matter. For all of Trump's ongoing effort to present himself as the increasing choice of Black voters, he would not complain loudly if Black turnout was down substantially next year, just as he didn't complain seven years ago.
This post appeared first on The Washington Post