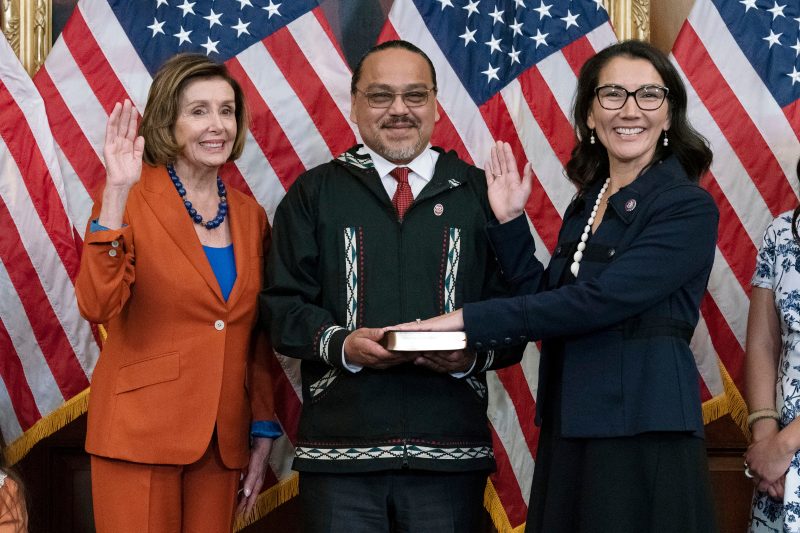 Husband of Alaska Rep. Mary Peltola dies in plane crash
Eugene Peltola Jr., husband of Rep. Mary Peltola (D-Alaska), died after his plane crashed in western Alaska on Tuesday, Peltola's office said Wednesday.
"We are devastated to share that Mary's husband, Eugene Peltola Jr. — 'Buzzy' to all of us who knew and loved him — passed away earlier this morning following a plane accident in Alaska," the congresswoman's communication director, Sam Erickson, said in a statement. "He was one of those people that was obnoxiously good at everything. He had a delightful sense of humor that lightened the darkest moments."
According to the Federal Aviation Administration, a single-engine Piper PA-18 crashed shortly after takeoff near the western Alaska village of St. Mary's about 8:45 p.m. local time. Per the FAA, only the pilot was on board.
National Transportation Safety Board chair Jennifer Homendy said in a briefing Wednesday that preliminary information indicated the plane had carried a hunter and their equipment to a remote, mountainous location 64 miles from St. Mary's, Alaska. An NTSB team plans to travel to the area with the help of the Alaska Air National Guard.
According to the Alaska Department of Public Safety, two hunters at the scene provided medical care to Peltola. The ADPS incident report states that Peltola died before a rescue team arrived at the scene.
The congresswoman, who was in Washington on Tuesday, returned to Alaska on Wednesday, her office said.
The Peltolas shared seven children and lived in Bethel, Alaska. Eugene Peltola, 57, was a tribal member of the Orutsararmiut Native Council and recently served as director for the Bureau of Indian Affairs Alaska Region. He retired from that position in 2022. Before that, he worked in the U.S. Fish and Wildlife Service for more than three decades.
Mary Peltola made history as the state's first woman in the House, the first Alaska Native — she is Yup'ik — and the first Democrat to hold the seat in a half-century when she beat a crowded field to win election to Alaska's sole House seat in 2022.
On Wednesday, House Democratic Leader Hakeem Jeffries (D-N.Y.) said he was deeply saddened to learn of her husband's death.
"The entire House Democratic Caucus is mourning the loss of Buzzy, and we are lifting Mary and the Peltola family up in prayer," Jeffries said. "We will be there for her in any way she needs during this unimaginable time of tragedy."
The White House said Wednesday evening that President Biden had spoken to the congresswoman to express his condolences.
Sen. Lisa Murkowski (R-Alaska), in a tweet, said she was "shocked" to hear about the death of her colleague's husband, and said it was "easy to see why so many Alaskans called him a friend, and how he was so loved by his family."
"Today, we mourn the tragic loss of Gene, and offer Mary and her family our heartfelt prayers for strength and consolation in this time of unspeakable loss and grief, and know that Alaskans across our great state are doing the same," Sen. Dan Sullivan (R-Alaska) said in a social media post.
The chairs of the moderate Blue Dog Democrats caucus, Reps. Marie Gluesenkamp Perez (Wash.) and Rep. Jared Golden (Maine) remembered Eugene Peltola in a joint statement as "an incredible man, devoted to Mary, his children, and everyone he loved."
Because of Alaska's geography, small planes and helicopters are often used to travel across the state. Former senator Ted Stevens (R-Alaska), a scion of Alaska politics, died in a plane crash there in 2010 after he left office.
According to a 2021 ProPublica-KUCB investigation, since 2016, 42 percent of U.S. fatalities from crashes involving small commercial aircraft occurred in Alaska — a number experts told the publication is the result of Alaska's rugged terrain, limited infrastructure and weather.
Ian Duncan and Azi Paybarah contributed to this report.
This post appeared first on The Washington Post