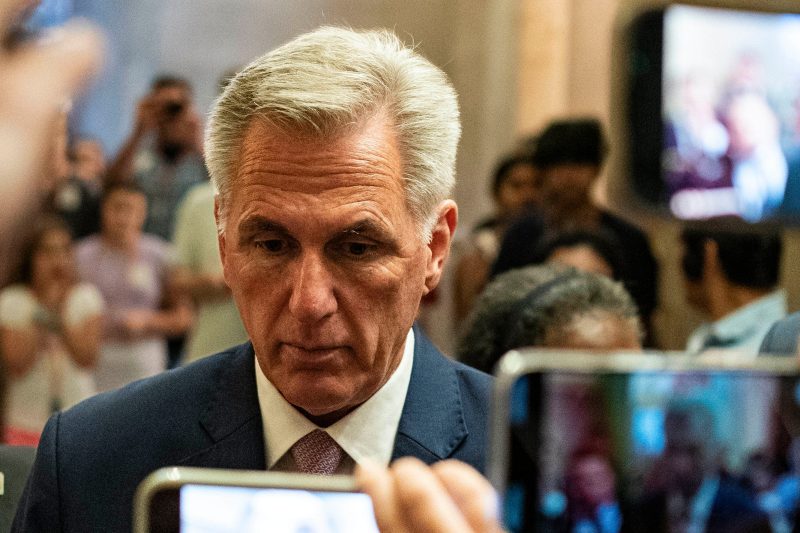 The overlap between election denial and viewing Biden as a criminal
House Speaker Kevin McCarthy's (R-Calif.) announcement on Tuesday that his party would move forward with an impeachment inquiry targeting President Biden did not do a particularly good job of explaining the predicate for the decision.
He offered a number of reasons that it was putatively warranted, though at least one of those reasons was untrue and several only demonstrably related to Biden's son, Hunter. In the past, McCarthy has acknowledged that the problem was that his caucus didn't have information implicating the president and that an impeachment inquiry was a vehicle to get such information. But on Tuesday, he just sort of gave bullet points on a few things you might hear in prime time on Fox News and left it at that.
One interesting aspect of all of this is that, despite the caucus's earnest, ceaseless and unsuccessful effort to directly show Biden's involvement in unethical or illegal behavior, a lot of Americans already view the president as corrupt. Propelled in part by an insistent right-wing narrative about culpability, they are convinced that Biden did something illegal.
This reminded me of something: claims that the 2020 election was stolen.
Last week, CNN released a poll that showed the extent to which election denialism is still embedded in the public consciousness. Only a minority of Americans think the 2020 election was not legitimately decided, but a large percentage still do. In fact, 4 in 10 Republicans say they think there's solid evidence that the 2020 election was illegitimate, a belief that depends either on a malleable definition of "legitimate" or on a rejection of three years' worth of debunkings.
In that same poll, CNN asked Americans how they viewed Biden's interactions with his son's businesses. The pattern is predictably similar: Democrats were more likely to give Biden a pass, and Republicans were more likely to say Biden broke the law.
Again, the Republican investigations have not shown any financial benefit flowing to Biden or even presented a robust argument that the president was heavily involved in his son's efforts — much less that the president violated the law. But three-quarters of Republicans think he did.
I asked CNN's polling team how much overlap there was between these two groups: How many Americans thought both that there was solid evidence the 2020 election was illegitimate and that Biden broke the law? The answer was about one-fifth; one-quarter said they thought Biden did something illegal, though they didn't believe there was solid evidence the election was illegitimate.
But a lot of that latter group still thought the election was illegitimate — they just didn't see solid evidence of it. About 3 in 10 Americans say they think both that the 2020 election was illegitimate and that Biden did something illegal. Put another way, about three-quarters of those who think Biden did something illegal also think that the 2020 election was illegitimate.
This is largely a measure of partisanship, obviously, but not entirely. That 1 in 8 Democrats think Biden did something illegal while only two percent say there's solid evidence the 2020 election was illegitimate suggests that perhaps the arguments against the former idea haven't been presented to any significant extent. The allegations against Biden were formed and cultivated in the right-wing media universe, meaning a lot of people are just now encountering them for the first time.
There's an important caveat here: Evidence may emerge that ties Biden to his son's business efforts more concretely or that even proves Biden used his office improperly. Maybe the inquiry McCarthy hoped would dig up that evidence will actually do so — despite the explicit denials of the president's involvement from the Republicans' star witness.
At the moment, the case against Biden is near translucent. There is no credible evidence of illegality. Yet, once again, people already believe it.
This post appeared first on The Washington Post