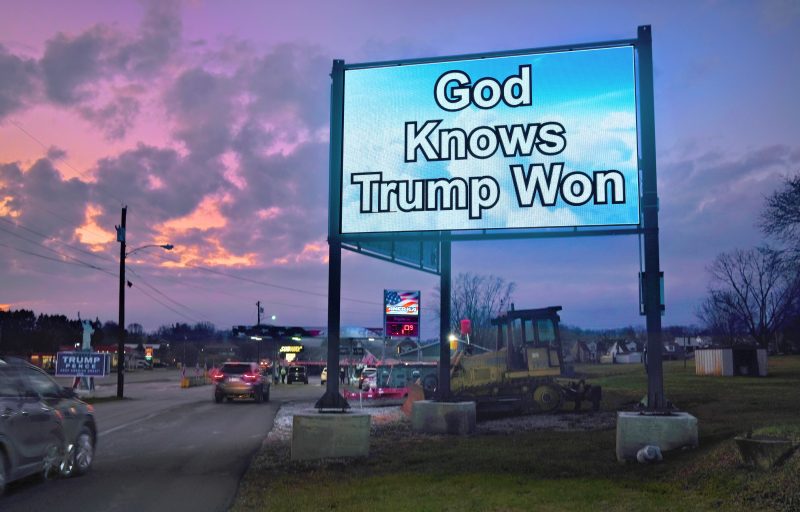 Luckily for him, Trump doesn't need to prove there was election fraud
Donald Trump has been around enough lawsuits to understand how the process works. There is the collection and sharing of evidence, the process of discovery. There are affidavits, and there is testimony. There is fact-finding.
So, in a social media post on Wednesday, Trump suggested that the discovery process that will accompany his third indictment would prove that he was right about the 2020 election all along.
"There was Election Fraud, which we will now be easily able to prove based on the most recent Fake Indictment & information which will have to be made available to us, finally," he wrote. He added that this was "a really BIG deal."
Trump will not be able to prove there was widespread election fraud in 2020 because there was not widespread election fraud in 2020. But, more important, there's no point in trying to prove that there was fraud. First, whether he thinks there was fraud is largely irrelevant to the indictment itself. And, second, most of his supporters already incorrectly believe that the election was illegitimate.
The first point has been a subject of debate since the indictment was made public Tuesday. At issue is the extent to which Trump's belief in his false claims about the election is sincere. But, as journalist Marcy Wheeler outlined Thursday, the central question isn't whether Trump believed that rampant fraud occurred. Instead, it's whether he used specific false claims to get the outcome he desired.
Writer Julian Sanchez offered a good example of this distinction.
"If I'm falsely accused of a crime but, lacking a good alibi, pressure some friends to lie that we were together at the time," Sanchez wrote, "I've still suborned perjury on the particular question even if my belief in the larger question of my innocence is genuine."
In other words, even if Trump believed that the election was stolen, he couldn't then use specific information he knew was false in his effort to reverse the election results.
He couldn't, for example, claim on social media that Georgia Secretary of State Brad Raffensperger (R) was "unwilling, or unable, to answer questions such as the 'ballots under table' scam, ballot destruction, out of state 'voters', dead voters, and more" — as Trump did — after Raffensperger and his deputies clearly rebutted those things in a recorded call with Trump. But this was days before the Jan. 6, 2021, rally that Trump had been encouraging people to attend, and implying that the state of Georgia was unable to address his fraud claims aided that encouragement.
That example is included in the indictment.
Trump wants to use the indictment to claim that he will soon be able to prove the 2020 election was riddled with fraud because it again aids him politically to do so. He has taken some gentle criticism from his opponents in the race for the 2024 Republican nomination over his refusal to concede his loss that year — criticism aimed at reinforcing the idea that he has consistently underperformed in electoral contests. If there's proof the election was stolen, that criticism is voided.
But, again, Republicans already overwhelmingly think that he was robbed in 2020. New polling from CNN shows that 4 in 10 Americans think that Joe Biden did not legitimately win enough votes that year to be elected president — largely because more than two-thirds of Republicans hold that view.
What's remarkable is how consistent this has been. In the waning days of Trump's presidency, 7 in 10 Republicans felt that Biden's win was illegitimate. Two-and-a-half years later, after numerous investigations and endless debunkings of claims about the election being stolen or "rigged" … 7 in 10 Republicans think Biden's victory was illegitimate.
Notice the uptick in the most recent poll. That matches an uptick since March in the percentage of Republicans who think there exists solid evidence that Biden's win wasn't legitimate. There doesn't, of course, but nearly 4 in 10 Republicans think otherwise.
This increase might just be statistical noise; a six-point rise since March isn't statistically significant. But it does overlap with Trump's increased position in the Republican primary polls, suggesting that — if the trend holds — he's consolidating both support in the upcoming voting and, perhaps, in his assertions that there is some as-yet-undiscovered fraud out there, just waiting for discovery. Pun intended.
It will be some time before Trump goes to trial on the charges included in the new indictment, and so it will be some time before we see how effective he and his attorneys are at rebutting the allegations in the indictment.
In the meantime, though, it seems to be useful to Trump politically to suggest that proof of fraud is just around the corner. And since his political success might be his best legal defense, expect him to make that suggestion more often.
This post appeared first on The Washington Post