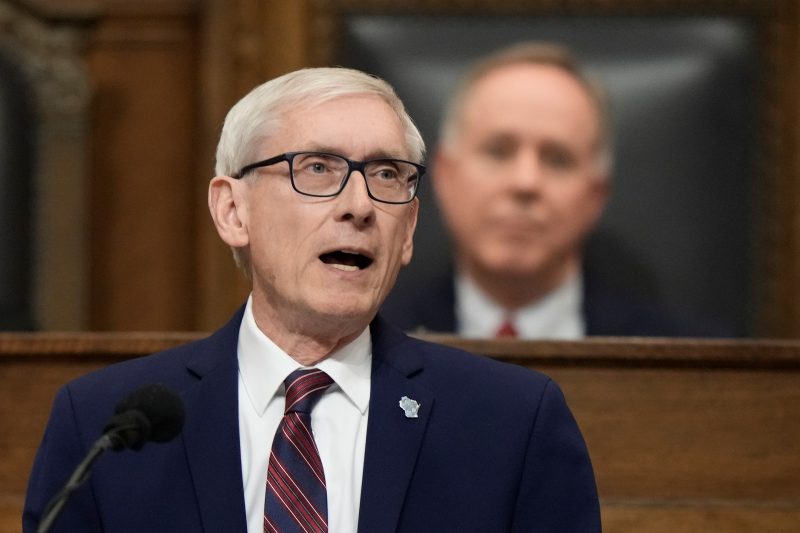 Man with a gun demands to see Wisconsin governor, is arrested, and returns with rifle
MADISON, Wis. — A man with a handgun showed up at the Wisconsin Capitol demanding to see Gov. Tony Evers (D) on Wednesday, was arrested, posted bail, returned with a rifle and was taken into protective custody, according to police.
The shirtless man had a holstered handgun and leashed dog with him when he appeared at the security desk outside of the governor's Capitol office Wednesday afternoon demanding to talk to the governor about "domestic abuse towards men," according to a spokeswoman for the Wisconsin Capitol Police and a police bulletin sent to state lawmakers. An officer arrested him for openly carrying a firearm.
The 43-year-old Madison man was booked into jail and posted $500 bail, according to police and the Dane County Jail. He returned to the outside of the Capitol with a loaded AK-47 around 9 p.m., three hours after it closed, according to the state police. He asked to see the governor again. Officers spoke with him and asked to search his backpack. He agreed and they found a police-style baton, which they said violated state law because the man did not have a concealed-weapons permit, according to police.
Officers took the man into protective custody for a psychiatric evaluation shortly before midnight based on "concerning statements" the man made, according to a statement from police spokeswoman Tatyana Warrick.
"I'm okay," Evers told reporters Thursday, according to the Milwaukee Journal Sentinel. "To their credit, the Capitol Police took control of the situation."
The Associated Press first reported on the incident.
The Wisconsin Capitol does not require visitors to go through metal detectors or security screening. People stream in and out of the building throughout the day for state business, tours or as a shortcut to walk across downtown. On Thursday, two officers were posted in the rotunda, as is common, but there were no signs of stepped-up security.
The incident occurred a year after Evers's name appeared on a hit list of a man suspected of killing a retired county judge. The alleged assailant in that incident died soon after the judge was fatally shot.
In 2020, Michigan Gov. Gretchen Whitmer (D) was targeted in a kidnapping plot. Nine people were convicted of charges stemming from that plot, and five were acquitted.
This post appeared first on The Washington Post