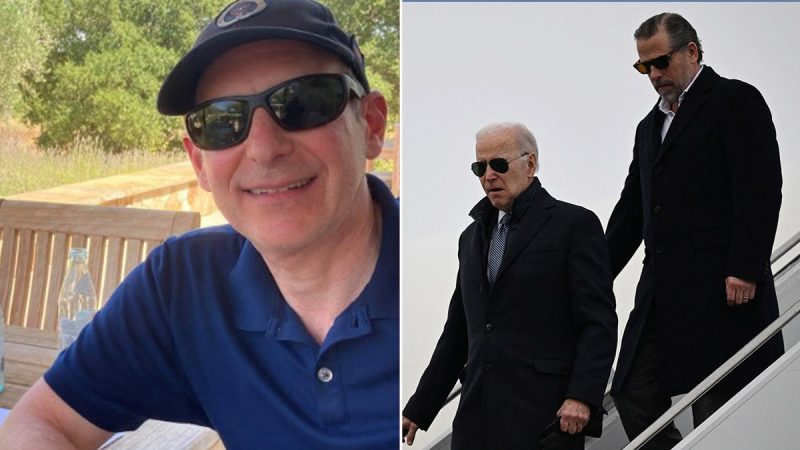 Oversight Dems admit Hunter's longtime business partner handled Biden's finances throughout VP tenure
FIRST ON FOX: House Democrats acknowledged Wednesday that Hunter Biden's then-business partner, Eric Schwerin, handled President Biden's finances for the duration of his vice presidency.
A spokesperson for the Democrat minority of the House Committee on Oversight and Accountability told Fox News Digital that Schwerin, the former president of Hunter's Rosemont Seneca Advisors and a frequent visitor to the Obama-Biden White House, served as then-Vice President Biden's 'bookkeeper' from 2009 to 2017.
'Notably, Mr. Schwerin, who served as then-Vice President Biden's bookkeeper from 2009 to 2017, explained that he was not aware of any transactions into or out of the then-Vice President's bank account related to business conducted by any Biden family member,' the spokesperson said in a statement.
The statement came after Fox News Digital inquired about a section of the White House's lengthy memo to the media on Wednesday as it scrambles to respond to House Republicans' impeachment inquiry into President Biden.
The White House issued a memo that urged news outlets to ramp up scrutiny of the impeachment inquiry announced Tuesday by House Speaker Kevin McCarthy, who said House Republicans have 'uncovered serious and credible allegations into President Biden's conduct.'
The White House memo included a 14-page fact-check of Republicans' claims made throughout the Biden investigation with regard to the president's purported role in his son's foreign business dealings and whether the Biden family used the former vice president's public office for personal profit.
'Republicans' own witnesses such as Eric Schwerin, a former business associate of Hunter Biden, said President Biden was not involved in their business dealings,' the White House said on page 13 of the memo.
''In a March 2023 interview with Republican and Democratic Committee staff, Mr. Schwerin told Committee staff he was not aware of any involvement by President Biden in the financial conduct of the President's relatives' businesses, much less any transactions into or out of the then-Vice President's bank account related to business conducted by any Biden family member,'' the White House continued, citing a paragraph from the Oversight Democrats' memo in May.
A person familiar with Schwerin's role in handling then-Vice President Biden's finances told Fox News Digital that Schwerin worked on Biden's personal budget and helped coordinate with his tax preparers.
The individual also pointed to the frequency of Schwerin's communications with Biden and his top aides and said it was 'inevitable' Rosemont Seneca business came up in conversations.
A House Oversight spokesperson for the Republican majority told Fox News Digital that the committee 'never interviewed Schwerin' as claimed by committee Democrats and later by the White House.
'This is false,' the spokesperson said. 'The Committee never interviewed Schwerin. There was a meeting but it was about document production. There has never been a transcribed interview or deposition.'
The committee Democrats spokesperson fired back in a statement to Fox News Digital, saying Schwerin, who Hunter previously admitted was a 'close confidant and counsel' of then-Vice President Biden, was indeed interviewed by committee staff for multiple hours on March 31, 2023, following a request from Comer.
'In written correspondence to the Committee, Mr. Schwerin's counsel described this as a 'non-transcribed interview,'' the statement continued. 'Majority and Minority staff had equal time and switched off asking Mr. Schwerin questions about his relationship with Hunter Biden, as well as the history, structure, and activities of Hunter Biden's business entities, to which Mr. Schwerin responded.'
Schwerin's lawyer, however, told Fox News Digital that Schwerin was not technically a 'bookkeeper' to the then-VP but rather he simply assisted the then-VP with his finances.
Fox News Digital has previously reported on Schwerin's extensive ties to the Biden family, both personal and professional, and how he was instrumental in Hunter expanding his enterprise in China.
Peter Schweizer, the president of Government Accountability Institute and an expert on Hunter's business dealings, told 'Sunday Morning Futures' host Maria Bartiromo last month that 'Eric Schwerin was the money guy' in Hunter's business ventures.
Schwerin, who visited the Obama White House and then-Vice President Biden's residence at least 36 times between 2009 and 2016, was also a founding partner and managing director of Hunter's now-dissolved firm Rosemont Seneca Partners. He was working with Hunter's firms when he was appointed in early 2015 by then-President Obama to the Commission for the Preservation of America's Heritage Abroad, an independent U.S. government agency.
Hunter's ex-wife, Kathleen Buhle, who was married to the president's son from 1993 to 2017, revealed in a memoir in June 2022 that Schwerin 'managed almost every aspect of our financial life.'
The White House did not respond to Fox News Digital's request for comment.
This post appeared first on FOX NEWS