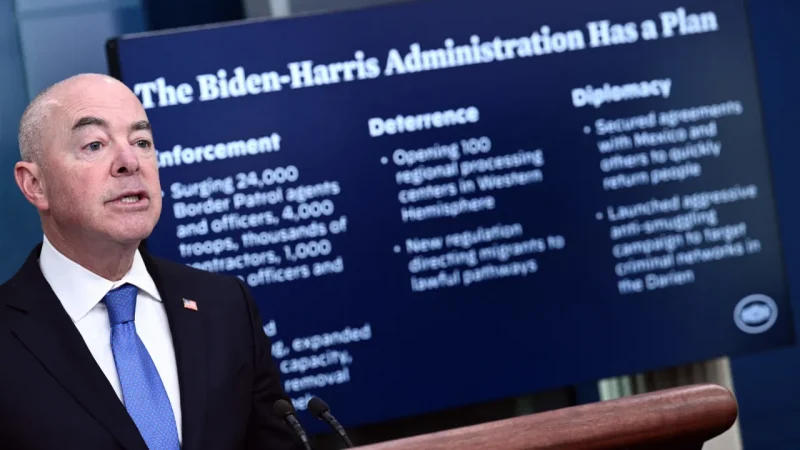 Rejection of Biden asylum rule after court challenge raises fears of fresh border surge
A federal court ruling this week that threatens to shut down the Biden administration's cornerstone of its post-Title 42 border strategy is raising new fears from both DHS officials and critics that it may spark a new surge at the southern border just as numbers have started to drop.
Judge Jon S. Tigar of the U.S. District Court for the Northern District of California blocked the Circumvention of Lawful Pathways rule Tuesday in response to a lawsuit from a coalition of left-wing immigration groups led by the American Civil Liberties Union.
The rule bars migrants from claiming asylum if they have crossed the southern border illegally and failed to claim asylum in a country through which they have already passed.
The rule was part of a carrot-and-stick approach that saw the rule combined with a stiffening of Title 8 penalties and a significantly expanded use of legal pathways. The administration has been allowing up to 1,450 migrants a day into the U.S. via the CBP One app and another 30,000 Cubans, Haitians, Nicaraguans and Venezuelans each month in via a separate parole program.
The administration said the strategy was working, pointing to a 70% decrease between the highs before the end of Title 42 on May 11 and immediately after. Recently, June's border numbers showed a sharp drop from over 200,000 in May to over 144,000 at a time when numbers typically increase.
'Our approach to managing the borders securely and humanely even within our fundamentally broken immigration system is working,' DHS Secretary Alejandro Mayorkas said Wednesday at a House Judiciary Committee hearing. 
'Unlawful entries between ports of entry along the southwest border have consistently decreased by more than half compared to the peak before the end of Title 42.
'Under President Biden's leadership, we have led the largest expansion of lawful, safe and orderly pathways for people to seek humanitarian relief under our laws. At the same time, imposing tougher consequences on those who instead resort to the ruthless smuggling organizations that prey on the most vulnerable.'
But the combination strategy has upset both conservatives and liberals, Republicans arguing the administration is abusing parole and shuffling otherwise illegal migrants in through a quasi-legal process they call a 'smoke screen.' Immigration activists argue the administration is illegally restricting the right of foreign nationals from across the globe to claim asylum in the U.S.
'The ruling is a victory, but each day the Biden administration prolongs the fight over its illegal ban, many people fleeing persecution and seeking safe harbor for their families are instead left in grave danger,' Katrina Eiland, deputy director of the ACLU's Immigrants' Rights Project, said a statement after the ruling.
Now, with that central asylum rule torpedoed, it leads to fears there may be a reversal in the downward trend at the border.
DHS said in its filing to the court that, if the rule is shot down, it 'anticipates a return to elevated encounter levels that would place significant strain on DHS components, border communities, and interior cities.'
The LA Times reported a top DHS official had warned in a filing in June that there were over 100,000 migrants waiting in northern Mexico who appeared to be 'waiting to see whether the strengthened consequences associated with the rule's implementation are real.'
The Biden administration's critics on the right were similarly dejected about the potential for a future surge. Dan Stein, president of the hawkish Federation for American Immigration Reform (FAIR) warned the ruling 'will serve as an invitation for people to further abuse our asylum process.'
With Title 42 gone and no mechanism in place to promptly expel even some of the people who enter between ports of entry, a new surge of people crossing illegally could well exceed records set earlier this year.
An element of that concern could be seen in Mayorkas' statement in response to the ruling. He addressed migrants directly and stressed that, pending the appeal, the rule was still in place and 'does not limit our ability to deliver consequences for unlawful entry.'
'Do not believe the lies of smugglers,' Mayorkas said. 'Those who fail to use one of the many lawful pathways we have expanded will be presumed ineligible for asylum and, if they do not have a basis to remain, will be subject to prompt removal, a minimum five-year bar on admission and potential criminal prosecution for unlawful reentry.
'We encourage migrants to ignore the lies of smugglers and use lawful, safe and orderly pathways that have been expanded under the Biden administration.'
 
This post appeared first on FOX NEWS