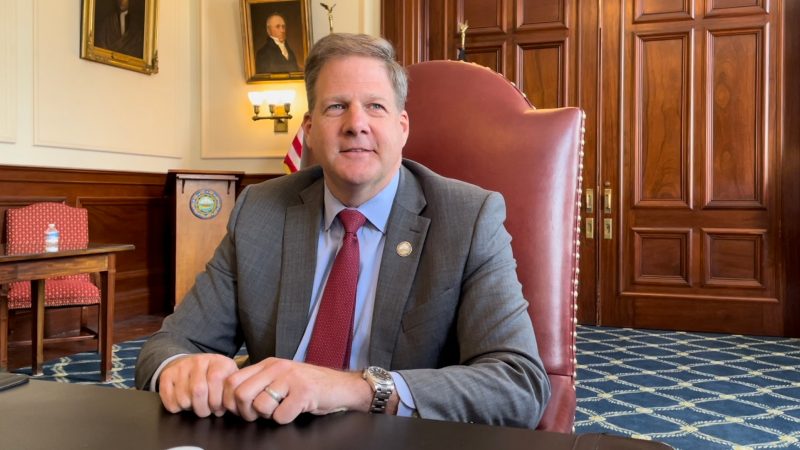 What a popular Republican governor in a key primary state wants to hear from the GOP presidential candidates
FIRST ON FOX: He passed on running for the White House, but popular Republican New Hampshire Gov. Chris Sununu will team up Friday with nearly the entire field of GOP presidential candidates at a major cattle call in Iowa.
Sununu is traveling to Des Moines, where he will attend the Republican Party of Iowa's 2023 Lincoln Dinner, which is the state party's top annual fundraising gala. Word of Sununu's travels was shared first with Fox News on Tuesday.
All but one of the more than a dozen Republican White House candidates — including former President Trump, Florida Gov. Ron DeSantis, South Carolina Sen. Tim Scott, former ambassador and former South Carolina Gov. Nikki Haley, former Vice President Mike Pence, and entrepreneur and political commentator Vivek Ramasamy — will speak at the dinner in the state whose caucuses kick off the GOP presidential nominating calendar. The only candidate not attending is former New Jersey Gov. Chris Christie, who is concentrating his second White House bid in New Hampshire, which holds the first primary and second overall contest in the GOP schedule, and South Carolina, which votes third.
Sununu, who has indicated he will likely make an endorsement ahead of next year's New Hampshire primary, said in a Fox News Digital interview that one of the reasons he is attending the Iowa GOP dinner is 'it's just a great opportunity to see.'
'I'm kind of looking at these candidates, not just in terms of what they say and their policies. I really believe right now it's about who's got the personality. Who has the style. Who gets people excited. It's not just what they say but what you see and kind of the tone that they deliver and how they'll do that with all the other candidates around them for the first time is actually quite fascinating,' Sununu explained.
Pointing to the GOP presidential primary debates, which kick off Aug. 23 with a Fox News-hosted showdown in Milwaukee, the governor highlighted, 'I think this is a little bit of a precursor to the debates maybe. They're not debating, but how are they going to handle themselves against each other? I think it's a little bit of a curiosity factor… who's going to really be able to give the punch and take the punch, and give it back to Trump.'
Sununu is attending the dinner as a guest of Run GenZ, a non-profit group that says it is focused on 'empowering and mentoring conservative trailblazers from Generation Z to pursue leadership opportunities, including public office that allow them to work toward a more constitutionally-focused government.' The governor was last in Iowa a year ago when he attended a Run GenZ Summer Summit.
'I know a lot of other folks who are out there, and I'm looking forward to catching up with them and giving them the New Hampshire perspective on things,' Sununu shared. He also emphasized that when it comes to the GOP presidential nomination race, 'Iowa and New Hampshire kind of lead the charge in the conversation.'
When asked if he will use Friday's dinner as a screen test for a likely endorsement, Sununu said, 'The screen test, if you will, is when they come on the campaign trail with me. They come to some of my Super 603 Days, or I go to events with them and I kind of take them around. I'll be doing a lot of that this fall with many of the candidates.
'The best screen test is when they're with me and my constituents and how they handle it,' the governor spotlighted. 'They have to earn their stripes with me on my home turf.'
Sununu, who announced in early June that he would pass on a White House campaign, and last week announced that he would not run next year for what would have been an unprecedented fifth two-year term as New Hampshire governor, has long been a vocal GOP critic of the former president. The dinner will bring Sununu and Trump under the same roof at the same time.
'I have no problem going up and saying hello if I have the opportunity,' Sununu said, 'I appreciate the service he gave to the country, the four years he gave. We just need to move on. It's not personal.'
He added that, 'I'm always polite. I'm always willing to shake somebody's hand and look them in the eye and try and try to encourage them to get out of the race… clear the field for the next generation.'
Sununu also reiterated that the large GOP field of rivals to Trump needs to winnow down by the end of the year, ahead of the first nominating contests, in order to prevent the former president – who currently enjoys a commanding lead in the latest Republican primary polls – from easily capturing the nomination.
When asked if he will try to help narrow the field, Sununu answered 'I absolutely will… I'm never shy about what I think should happen or where I think the party should go.'
'If you're not in the first or second debate, I think that's probably a good sign that it's not going to happen. So that's probably going to be the first filter,' Sununu said. 'I think as you get into the November and December timeframe, if other candidates just aren't going anywhere still, then I have no problem having polite conversations behind the scenes — I don't want to embarrass anybody. But I think a lot of folks will be having those conversations, by the way, not just me.'
He also emphasized that 'at some point the pressure has to be brought to bear.' No candidate had the 'courage' to do that in 2016, as Trump conquered a crowd field of rivals, Sununu said. 
'We took it for granted in '16 and tried to go around Trump.'
This post appeared first on FOX NEWS