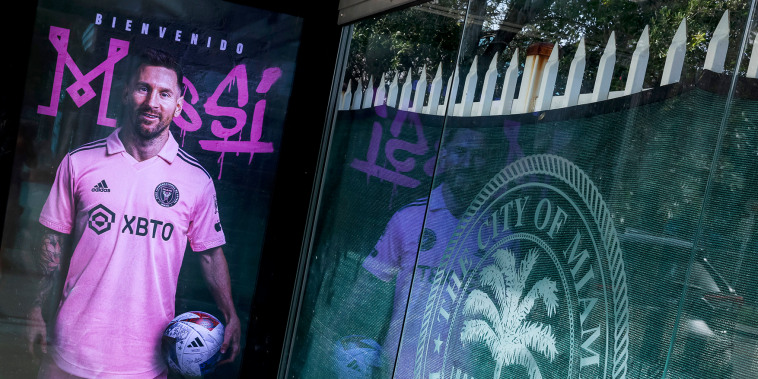 South Florida braces for Messi debut — and the possibility of a muted economic impact
With Lionel Messi slated to make his American soccer debut Friday, South Florida businesses are bracing for Messi Mania — and the possibility that the immediate economic impact of his arrival is more muted than they had hoped for.
On the face of it, Miami has rolled out the welcome mat for the Argentinian soccer star, with multiple parts of the city bedecked with Messi murals and graffiti in black, white and pink — the colors of his new team, Inter Miami FC.
And officially, Friday's game is sold out.
But a check of Ticketmaster Friday showed plenty of tickets available on the resale market for the Argentinian legend's projected first game with Inter Miami FC, with prices dipping below $200 — approximately $50 below where they were Thursday.
The team has announced Messi is likely to come off the bench for the evening match against Mexico City-based Cruz Azul, part of the Leagues Cup tournament featuring MLS and Liga MX teams.
A host of factors at the outset may ultimately blunt the event's financial impact.
The game on Friday is taking place at the height of summer — historically when South Florida's tourism season grinds to a halt.
Messi is also landing amid an unprecedented heat wave that has seen Miami's heat index hit records more than 20 times in the last 35 days, according to the Miami Herald.
Data from the commercial real estate data and analytics group CoStar showed Miami hotel bookings little changed from the same dates this time last year.
While the best seats for Friday's game had reached prices as high as nearly $16,500 on StubHub Thursday, there remained plenty of seats available. Many of the tickets being sold appear to be from resellers — meaning existing ticket holders looking to capitalize on the phenom's appeal.
While Messi's arrival in Miami has been expected for years, his actual signing — finalized last Saturday — took Emi Guerra, co-founder of Breakwater Hospitality Group, which owns multiple bars and restaurants in South Florida, by surprise.
Guerra declined to comment Thursday on the reservation activity he was seeing at his restaurants in advance of the debut, though he said social media interest augured well for attendance; team co-owner David Beckham said this week that Messi's official presentation Sunday garnered 3.5 billion total views between social media impressions and TV and online viewers.
One unlikely beneficiary of Messi Mania may be the city of Fort Lauderdale, about 40 minutes north of Miami in neighboring Broward County. That's because Messi will actually be playing in Inter Miami's DRV PNK Stadium, which abuts the Fort Lauderdale-Hollywood International Airport.
But the commute — and the lack of bars and restaurants in the immediate vicinity of the stadium — may serve for a more toned-down welcome there.
Tim Petriello, a Fort Lauderdale-based restauranteur, said that with tourism in South Florida having slowed from its late-pandemic highs, any interest in the area would be welcome.
"It's been a little hard to organize anything, but we understand," Petriello said Thursday, explaining he had ultimately not put together any watch parties at his venues. "But we still want to be part of this and want to be supportive."
In an interview, Fort Lauderdale Mayor Dean Trantalis said Messi, 36, could play out the rest of his career in that city, given the current estimated timeline to complete an Inter Miami stadium in Miami is 2025 at the earliest.
But Trantalis acknowledged it was still early to assess the full impact of Messi's arrival on the local economy, though insisted local hotel bookings had seen an increase. CoStar did not have any data on Fort Lauderdale bookings.
'There's definitely been an uptick in demand,' Trantalis said.
There is no question about the buzz Messi is able to generate within the global soccer community. Google showed a clear increase Friday in searches for Inter Miami compared with Thursday and last Friday, especially in Latin American countries.
And Inter Miami is projecting that its revenues and overall franchise value will double over the next year.
While South Florida is home to hundreds of thousands of Latin Americans — and a tourist destination for that many more — it was not immediately clear how large of a contingent would be traveling to see him in person Friday.
A spokesperson for Argentina's Aerolíneas Argentinas S.A., that country's principal airline, said that while demand is always historically strong for Miami flights, the company had not yet made additional accommodations for an influx ahead of Friday's game — though future games could prove an attraction.
'Everybody wants to see him,' said Marcelo Bottini, Aerolíneas Argentinas' regional director.
This post appeared first on NBC NEWS