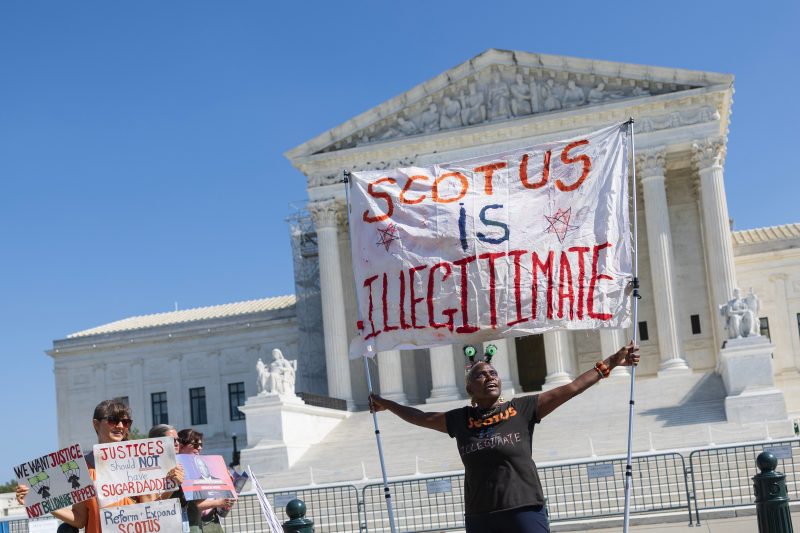 Supreme Court weighs sentencing law, denies appeal from Trump lawyer Eastman
The Supreme Court inaugurated a new term Monday by spending hours dissecting one word of a criminal sentencing statute, after turning away an appeal by lawyer John Eastman related to his efforts to help Donald Trump block certification of the 2020 election.
The court's new term will feature continuing controversies such as gun rights, abortion and challenges to the power of federal agencies. But the first oral argument focused on whether Congress's use of the word "and" in a statute authorizing lighter sentences for certain drug dealers more properly should be read as "or."
If that sounds straightforward, a trail of cases across the country that have split the lower courts and nearly two hours of argument at the Supreme Court indicated otherwise. "I think this is a very hard case," Justice Amy Coney Barrett said.
Earlier, the justices disposed of hundreds of petitions that have accumulated since the court's final opinions last June. That included a request from Eastman to wipe out a lower-court ruling that said he and Trump "more likely than not" committed a crime with their strategy to overturn Trump's loss to Joe Biden.
Eastman, who was once a law clerk for Justice Clarence Thomas, faces criminal charges in Georgia, along with Trump, in connection with those efforts, and his conduct is described in the federal indictment of Trump in Washington on charges of trying to obstruct the election results.
Eastman asked the Supreme Court to vacate a lower court's decision granting a congressional committee examining the Jan. 6, 2021, riot at the U.S. Capitol access to his emails.
In March, U.S. District Judge David O. Carter of California ordered Eastman to turn over his emails. While the lawsuit was a civil matter, Carter said in his order that Eastman and Trump had probably committed crimes in trying to overturn the election.
"The illegality of the plan was obvious," Carter wrote in finding that Eastman's emails could not be shielded by attorney-client privilege. "Dr. Eastman and President Trump launched a campaign to overturn a democratic election, an action unprecedented in American history."
Without comment, the Supreme Court dismissed Eastman's petition for review, and Thomas recused himself from the case.
Thomas's decision to step away was a departure from his previous participation in cases involving the investigation of the Jan. 6 attack on the Capitol. Thomas was the only justice last year to side with Trump's request to withhold White House documents from the committee. He was criticized for participating in that decision because his wife, Virginia "Ginni" Thomas, was actively involved in challenging the election results.
Thomas did not provide an explanation for his recusal in the court's brief order regarding Eastman. But the emails the California judge ordered released to the House committee investigating the Jan. 6 attack included some between Eastman and Ginni Thomas. In addition, Clarence Thomas figured prominently in some of the emails that discussed legal strategy.
Lawyer Kenneth Chesebro wrote one email to Eastman and others that said that Thomas would "end up being key" to asking the court to reverse Biden's victory in contested states and that they should "frame things so that Thomas could be the one to issue some sort of stay or other circuit justice opinion saying Georgia is in legitimate doubt."
Neither Thomas nor any other justice ever issued such an order. The high court formally dismissed a range of suits filed by Trump and his allies that challenged the results in several states won by Biden.
In their first oral argument of the new term, the justices debated a sentencing case that could affect thousands of drug trafficking offenders.
The case involves an attempt by Congress to give judges more leeway in punishments and provide a "safety valve" so that not all are subject to tough minimum mandatory sentences.
But it has proved a linguistic puzzle to judges across the country. The statute says a defendant can become eligible for the safety valve if, among other things, the offense was nonviolent and the defendant "does not have" certain previous convictions. The statute lists those conviction categories as (A), (B) and (C).
Mark Pulsifer, who pleaded guilty to distributing methamphetamine in Iowa, said he should qualify for the safety valve. That's because he does not have previous convictions in all three categories. But the government says the proper reading of the law is that a defendant is eligible only if he "does not have" A, does not have B and does not have C. The proper reading of "and," in the statute, the government says, is really "or."
Three regional courts of appeals have read the statute the way Pulsifer urges. But four others, including the U.S. Court of Appeals for the 8th Circuit in Pulsifer's case, went the other way.
Washington lawyer Shay Dvoretzky, who is representing Pulsifer, said the Supreme Court should settle the split in favor of his client.
"Letting the government get to 'or' when Congress said 'and' would encourage Congress to be sloppy with the most basic English words, leaving square corners far behind, and in the criminal context, where fairness matters most," Dvoretzky said. "The court should hold Congress to what it wrote."
If Congress mean otherwise, he added, it can always make the law clearer.
He had supporters among the justices, including conservative Neil M. Gorsuch and liberal Ketanji Brown Jackson. Both indicated that a statute intended to give judges discretion to lower some sentences should be read with an eye toward lenience.
Other justices, including liberal Elena Kagan and conservative Brett M. Kavanaugh, said the government's interpretation of the statute made sense.
Kagan asked Dvoretzky how he would interpret a doctor's instruction that before a test a patient "shouldn't eat any food, drink any liquids, and smoke."
"I'm going to assume, Mr. Dvoretzky, that you're not a smoker," Kagan said. "Do you feel perfectly able to eat and drink as much as you want?"
The lawyer acknowledged he would interpret that "and" as an "or." Kagan replied, "Obviously, because the context tells you" the intent.
Justice Department lawyer Frederick Liu, representing the government, said the court has found in the past that the possibility of a clearer way to say something in a statute does not defeat a meaning that is clear when put into context.
Pulsifer, he implied, was just looking for a loophole.
"'And' in context joins together three independently disqualifying conditions," Liu said.
The case is Pulsifer vs. United States.
This post appeared first on The Washington Post