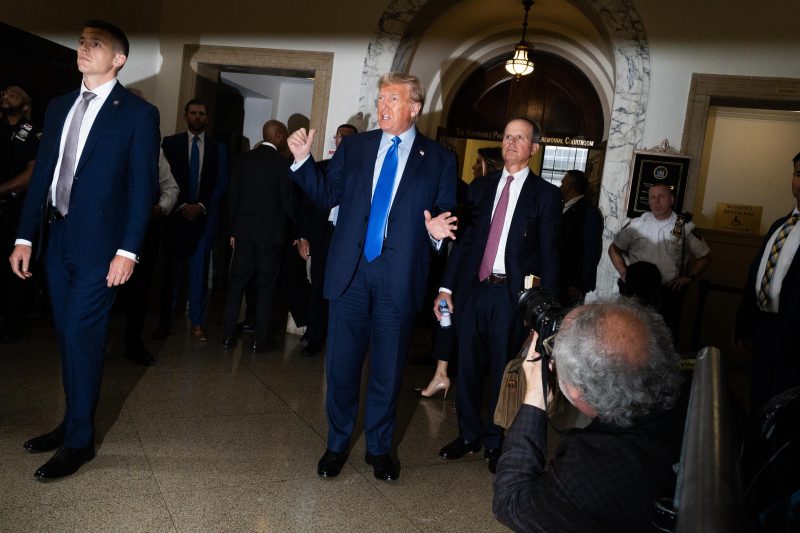 Trump takes his campaign to court in preview of upcoming criminal trials
Former president Donald Trump did not speak in a Manhattan courtroom on Monday, but he waged combat against prosecutors and a judge outside the courtroom, potentially previewing how he will handle a series of trials while seeking the presidency in 2024.
He denounced the proceedings in all-caps screeds on social media. His campaign blasted out opposition research on the New York attorney general, who brought the case accusing him of business fraud that went on for years. He stepped outside the courtroom to serve reporters a rage-fueled diatribe against the presiding judge and his clerk. The court placed no limits on what he could say.
And he portrayed the civil trial as of a piece with the 91 criminal charges in four separate cases, as if they were all part of a sweeping, concerted scheme to blunt his campaign to retake the White House — a political persecution that he predicted would surely backfire.
"Every time they give me a fake indictment, I go up in the polls," Trump said to the cameras outside the courtroom as his civil trial began. "This is a disgrace."
The trial that began Monday will not result in any jail time. The stakes, though, were deeply personal to Trump as much as they were political, and they could have life-changing financial consequences by disgorging the crown jewels of Trump's real estate holdings and celebrity billionaire brand, including Trump Tower on Fifth Avenue.
The day also offered a snapshot of the unusual dynamic that will be front and center in coming months: a former president navigating a thicket of court proceedings from New York to Florida as he seeks a return to office. Republicans have rallied strongly to his side in the GOP primary as his cases have piled up and Trump has been clear about his intent to make his legal plight part of his pitch. Less clear is the impact they might have in a general election if Trump emerges as the nominee.
Trump's outrage at the mortal danger that the case poses to his lifetime of dealing, building and self-promoting was clear from his demeanor and language in remarks to reporters on Monday. He called the attorney general "crazy" and "racist," while demanding the judge should be "disbarred," "out of office," and even "charged criminally for what he is doing."
The attacks continued a long pattern Trump has established of going after prosecutors involved in his cases with incendiary attacks and allegations that they are targeting him to stop him from being president again. Prosecutors working on the cases have said they are guided by the law, not politics.
His conduct on Monday is likely to draw scrutiny from the office of special counsel Jack Smith, who is prosecuting Trump in two separate federal cases and has already referenced his social media posts and campaign appearances in seeking a partial gag order. The prosecutors asked U.S. District Judge Tanya S. Chutkan, who is overseeing Trump's pending federal charges of obstructing the 2020 election results, to restrain him from attacking prosecutors, the judge and potential witnesses. Their brief filed last week noted Trump's recent attacks on former vice president Mike Pence, former attorney general William P. Barr and Army Gen. Mark A. Milley.
Trump's release conditions in Fulton County, Ga., where he has been charged in trying to overturn that state's 20 election results, include a bar on direct or indirect threats, including on social media. That trial is likely to allow cameras in the courtroom, as in New York, whereas federal cases typically do not.
Trump has in the past challenged the legitimacy of the independent judiciary, suggesting in 2016 that the judge overseeing the class-action lawsuit against his for-profit Trump University was biased because of his Mexican ancestry, and in 2018 attacking an adverse ruling from an "Obama judge" that drew a rare rebuke from Chief Justice John G. Roberts Jr.
But the spectacle of Trump mounting his attacks from inside the marbled courthouse halls, as simultaneous counterprogramming for the trial itself, escalated the assault to a new level and offered an advance glimpse of how Trump may treat his trial in the federal case, scheduled to start in March 2024.
Trump's campaign is working to channel his indignation into political advantage by dominating news coverage and stoking a collective sense of victimization, as they have with the four criminal indictments since March.
"It has been very successful for them because they took me off the campaign trail because I have been sitting in a courthouse all day long. Instead of being in Iowa, New Hampshire, South Carolina or a lot of other places I could be at," Trump said after the day's adjournment, appearing with his lawyers as well as campaign communications advisers Jason Miller and Steven Cheung.
A recent fundraising email about the trial declared, "The once free nation of America is dead," and "This is just a glimpse of what's to come if we let the tyrannical Democrats remain in control of our country in 2024."
"It feeds into the narrative that he's being persecuted," said a campaign adviser who spoke on the condition of anonymity because they were not authorized to speak publicly. "That's the whole message we're sending, and that helps the message."
Trump's posture in the courtroom on Monday resembled his Fulton County mug shot, which the campaign has emblazoned on coffee mugs and T-shirts. He has encouraged allies and lawyers to defend him as well, blanketing conservative media outlets.
"He loves the tough photo op," another adviser said. "That trademark scowl."
The court proceedings present a continuing challenge to Trump's rivals for the Republican nominee who have struggled to break through and find a working line of attack against the former president. The wall-to-wall coverage of Trump's trial on Monday again illustrated the frustration of operatives supporting Trump's leading challenger, Florida Gov. Ron DeSantis, with Trump's persistent advantage in dominating headlines.
DeSantis has recently stepped up his attacks on Trump by naming him in social media posts and on the debate stage, but he has stuck to well-worn critiques that the former president isn't conservative enough or didn't deliver on policy promises while steering clear of Trump's legal issues. On Monday as Trump appeared in court, DeSantis focused on hitting the former president's record on the southern border.
Trump's broadsides against the judge from outside the courtroom relied on misrepresentations. He read from a New York Post article quoting real estate agents and brokers disagreeing with the judge's valuation of Trump's Mar-a-Lago estate, presenting it as an official pronouncement from "highly respected officials in Palm Beach County."
"So this judge should change his ruling because Palm Beach County said he was totally wrong and he was ruling based on them," Trump said falsely, adding that he would value Mar-a-Lago at more than $1 billion.
Tim O'Brien, a biographer unsuccessfully sued by Trump for saying Trump inflated his wealth early in his business career, said the practices were not new — only that the court system was starting to punish him for it.
"The current situation is existential for his businesses," O'Brien said. "It's premature to say it's definitely a death warrant for New York businesses. The court process will play itself out. But if this stands, he'll be unable to do business in the state of New York."
As much as he and his campaign sought to leverage the trial politically, people close to Trump said his obvious outrage was genuine. His team was caught off guard last week by New York Supreme Court Justice Arthur Engoron ruling ahead of the trial that found Trump liable for business fraud and ordered the dissolution of Trump's New York business licenses and appointment of a receiver. Trump began fuming about the ruling and became determined to testify in court, one person close to him said. The person spoke on the condition of anonymity to describe private interactions.
"He knows that this judge can make it almost impossible for him to do business in New York," said the person, who explained that many parts of Trump's business are still based in the city, even as he lives in Florida, and that many of his key executives are still based in New York. The receivership could also go after some of his family's properties, as the judge's initial ruling focused on his sons and key executives in the firm.
Trump has told advisers that he plans to closely monitor the trial, even on days he isn't there, and his family's lawyer signified in court that he planned to testify. One of his more accomplished lawyers, Christopher Kise, has been spending much of his time on the case and briefing Trump.
"He can't not be the richest man in the world or the room. If there's a god in his life, it's money," John Kelly, his former White House chief of staff, said. "That's why he'll never stop saying 'witch hunt, witch hunt.' He can never admit he's not one of the wealthiest men in the country."
This post appeared first on The Washington Post