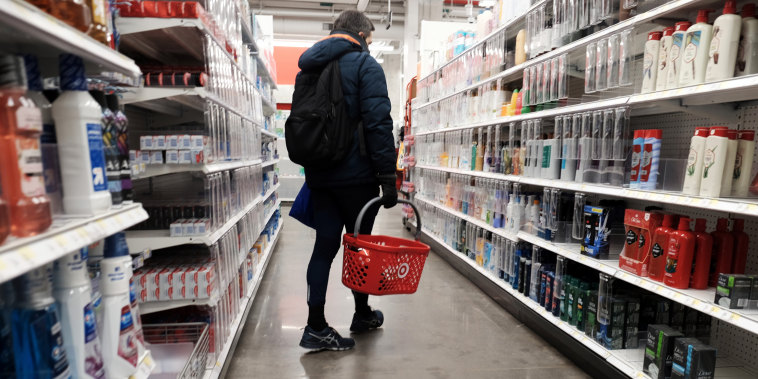 Target says it will close nine stores in major cities, citing violence and theft
Target said Tuesday that it will close nine stores in major cities across the country, citing violence, theft and organized retail crime.
The company will close one store in New York City's Harlem neighborhood, two locations in Seattle, three stores in the San Francisco-Oakland area and three more in Portland, Oregon. The discounter said it will shutter the stores for good on Oct. 21.
"We cannot continue operating these stores because theft and organized retail crime are threatening the safety of our team and guests, and contributing to unsustainable business performance," Target said in a news release.
"We know that our stores serve an important role in their communities, but we can only be successful if the working and shopping environment is safe for all." 
Target, which has nearly 2,000 stores in the U.S., has been outspoken about organized retail crime at its stores. It has said theft has driven higher levels of shrink, an industry term used to describe losses from goods that were damaged, misplaced or stolen.
With its announcement Tuesday, Target also stands apart in its decision to both shutter stores and to explicitly blame that decision on retail crime.
When the company reported fiscal second-quarter earnings in mid-May, CEO Brian Cornell said organized retail crime had shot up at its stores. He added shrink overall is expected to reduce Target's full-year profitability by more than $500 million compared to the year-ago period. 
When asked if the company plans to close stores because of rising shrink, Cornell stressed Target's reluctance to shutter locations.
"We do not want to close stores. We know how important our stores are. They create local jobs, they generate taxes, they're very important for those local shoppers, and they play a critical role in communities across the country," Cornell said on a call with reporters in May.
"We'll continue to do everything in our power to keep our doors open," he added. "At the same time, we'll be closely monitoring the safety of our team and guests as well as the financial impact to our business as we determine the right path forward at Target." 
The retail executive's comments led other companies to speak out on the problem, too, and to advocate for legislative reform. Following the passage of the Inform Act, which requires online marketplaces to disclose the identities of certain high-volume sellers to deter the sale of stolen and counterfeit goods, retailers and trade associations are now pushing for the passage of another bill called the Combating Organized Retail Crime Act. 
The bill, which Target said it supports in Tuesday's news release, proposes stiffer penalties for theft offenses and calls for a change in the threshold prosecutors must meet before bringing federal theft cases. It would also provide retailers with a formal venue to exchange information with one another and law enforcement through the proposed Organized Retail Crime Coordination Center.
Since 2022, at least nine states — six so far this year — have passed similar laws to impose harsher penalties for organized retail crime offenses. Behind the sweep of legislation are retailers and trade associations, which are using their collective power to get the bills written and past the finish line.
Store closures, or the threat of them, have been a major factor in retailers convincing lawmakers to get on board, policy experts previously told CNBC. 
Target's mounting struggles go deeper than theft
Target's business has struggled for more than a year with company-specific challenges, including a glut of unsold inventory, backlash to its Pride merchandise collection and a pullback in consumer spending on discretionary items such as apparel and home goods.
Over the past two decades, Target had not mentioned shrink hitting its margins during earnings calls until August 2022, when the company's and other retailers' profits were getting hurt by higher markdowns while trying to unload unwanted merchandise, CNBC previously reported. When inventories rise, shrink tends to increase as well, industry experts told CNBC.
The company previously said its shrink numbers vary widely by location and do not correlate with inventory levels.
Target said Tuesday that it has taken a variety of steps to stop crime at its stores. Those measures include adding locked cases for some merchandise, hiring third-party guard services, training store leaders about how to de-escalate potentially dangerous situations and investing in cyber defense to stop fraud or organized crime.
Yet, Target said at the affected stores, a larger security team and theft-deterrent tools weren't enough.
"Despite our efforts, unfortunately, we continue to face fundamental challenges to operating these stores safely and successfully," Target said in the release.
The company said it will work with employees at the closed stores to give them an opportunity to transfer to another Target location. 
It's not clear what actions the company is taking to improve inventory management. 
Despite store closures, shrink data is murky
Target announced the store closures on the same day the National Retail Federation, the industry's major trade association, released its latest National Retail Security Survey. The survey found the effect of theft on retailers' bottom lines is about the same as it has been for years.
Total retail shrink grew to more than $112 billion in 2022, up from $93.9 billion the year before, according to the survey. The metric is calculated using total U.S. retail sales and generally rises as retail sales climb. 
When reported as a percentage of sales as is commonly done, average annual shrink increased to 1.57%, up from 1.44% in 2021. The share is largely in line with past years and is considered a normal and healthy level of shrink by industry experts. Generally, retailers plan for about 1% to 2% of shrink each year. 
Target joins a growing list of retailers that have shuttered stores in major cities, including Walmart, Nordstrom and Walgreens Boots Alliance.
Nordstrom closed its San Francisco flagship store and Nordstrom Rack location in the city this summer after operating there for more than 35 years.
Yet, the company cited market dynamics rather than crime. In a message to employees at the time, then-Chief Stores Officer Jamie Nordstrom said changes in downtown San Francisco had hurt "customer foot traffic to our stores and our ability to operate successfully."
A brazen smash and grab in August at one of Nordstrom's other locations, a store in Los Angeles, made national headlines.
On an earnings call in late August, the company was asked about the widely circulated video of the crime. CEO Erik Nordstrom described the incident as "disturbing to all of us," and said losses from theft are "at historical highs." But, he added, theft is included in company guidance and not higher than expected.
In a December interview with CNBC, Walmart CEO Doug McMillon warned that stores will close if shoplifters aren't aggressively prosecuted.
Walmart has also closed some stores, including four in Chicago in April, but didn't blame theft. In a news release at the time, the retailer said it has struggled to make the locations profitable and challenges have intensified. It said the stores "lose tens of millions of dollars a year, and their annual losses nearly doubled in just the last five years."
Walgreens, similar to Target, specifically pointed to organized retail crime as the reason for shuttering some stores in San Francisco in 2021.
More from CNBC:
Fast fashion is leaning into resale, but it may do little to reduce emissions, new study saysRetail theft isn't actually increasing much, major industry study finds'I don't care': 'Sportswashing' comments from Saudi crown prince spark anger from rights groups
This post appeared first on NBC NEWS