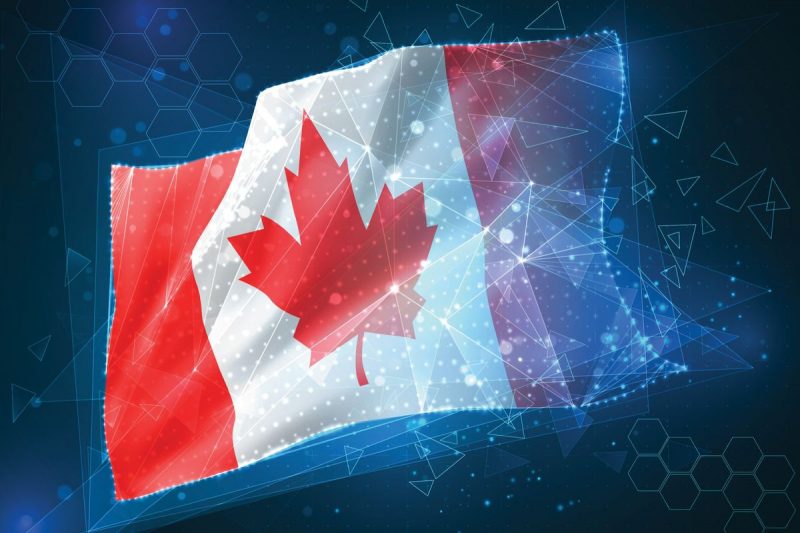 Top 5 Canadian Blockchain Stocks of 2023
The blockchain industry continues to mature and has experienced more mainstream adoption in the past few years.
However, Bitcoin market sentiment can impact the blockchain sector, and the cryptocurrency has faced a rollercoaster of ups and downs in the recent past. While 2023 might not see the price of Bitcoin return to its all-time high of more than US$68,000, which it reached in November 2021, analysts are confident that the crypto market will remain healthy for the year ahead.
With those circumstances in mind, here's a look at the five top Canadian blockchain stocks by share price performance so far in 2023. All figures were obtained using TradingView's stock screener on July 19, 2023. The companies listed had market caps of at least C$10 million at that time and were trading on either the TSX or TSXV. CSE-listed stocks were considered, but didn't make the cut.
1. Digihost Technology (TSXV:DGHI)
Year-to-date gain: 456.6 percent; market cap: C$83.28 million; current share price: C$2.95
Digihost Technology is a blockchain technology company focused on Bitcoin mining. Its goals are to increase its mining hash rate, reduce its energy costs and increase the number of Bitcoins it can mine and hold.
Digihost reported a 60 percent increase its Bitcoin production in 2022 compared to 2021, producing 832 units during the period. On February 8 of this year, the company completed another milestone in its digital infrastructure expansion with the acquisition of a 60 megawatt power plant in New York state, which increased Digihost's operating capacity to nearly 100 megawatts. The company projects that total capacity will be fully deployed by the end Q3 2023.
2. Cathedra Bitcoin (TSXV:CBIT)
Year-to-date gain: 375 percent; market cap: C$26.12 million; current share price: C$0.19
Cathedra Bitcoin develops and operates Bitcoin-mining infrastructure. The company's diversified Bitcoin-mining operations total 247 PH/s across five locations in the US. After inking a new hosting agreement in early February, the company completed the installation of additional machines at its new facility in Washington and at an existing third-party hosting site in Tennessee. As of June 22 this year, Cathedra Bitcoin's hash rate totaled 382 PH/s capable of producing approximately 29 Bitcoin per month.
3. Hut 8 Mining (TSX:HUT)
Press ReleasesCompany Profile
Year-to-date gain: 329.06 percent; market cap: C$1.1 billion; current share price: C$5.02
One of the world's largest cryptocurrency-mining companies, Hut 8 Mining holds more than 121 megawatts of existing power capacity, three digital asset data-mining facilities, five multi-tier data centers for high-performance computing and more than 400 commercial high-performance computing customers.
Hut 8 mined 3,568 Bitcoin in 2022, up 28.1 percent from 2021's output. As of June 30, 2023, Hut 8 held 9,136 Bitcoin.
Hut 8 is currently undergoing a merger with US Bitcoin. 'We continue to make progress toward closing the transaction with USBTC and look forward to securing SEC clearance for New Hut's registration statement in the near term,' said Hut 8 CEO Jaime Leverton. 'We believe that once completed, the merger will establish a strengthened, dynamic business backed by both Bitcoin and fiat revenues generated from robust North American-wide operations.'
4. Bitfarms (TSX:BITF)
Year-to-date gain: 317.24 percent; market cap: C$580 million; current share price: C$2.42
Founded in 2017, Bitfarms is a vertically integrated Bitcoin miner with 10 mining facilities across Canada, the US, Paraguay and Argentina. Its Bitcoin production is predominantly powered by hydroelectricity and long-term power contracts.
In 2022, Bitfarms' Bitcoin production grew by 50 percent over the prior year to reach 5,167 units. For 2023, acquisitions and expanding operations have allowed the company to reach an increased target hashrate of 6.3 EH/s by the end of Q3 2023.
5. DMG Blockchain (TSXV:DMGI)
Year-to-date gain: 292.59 percent; market cap: C$87.19 million; current share price: C$0.53
DMG Blockchain Solutions is a vertically integrated blockchain and cryptocurrency company that delivers end-to-end digital solutions to monetize the blockchain ecosystem. The firm has two business segments: Core and Core+ strategies. The Core segment derives revenue from providing crypto infrastructure and services to industrial clients; the Core+ segment represents a recurring revenue stream through software and services.
In June, DMG mined 53.2 Bitcoin with a 0.71 EH/s realized hashrate. The company's Bitcoin balance as of June 30 was 509 bitcoin.
Securities Disclosure: I, Melissa Pistilli, hold no direct investment interest in any company mentioned in this article.
This post appeared first on investingnews.com