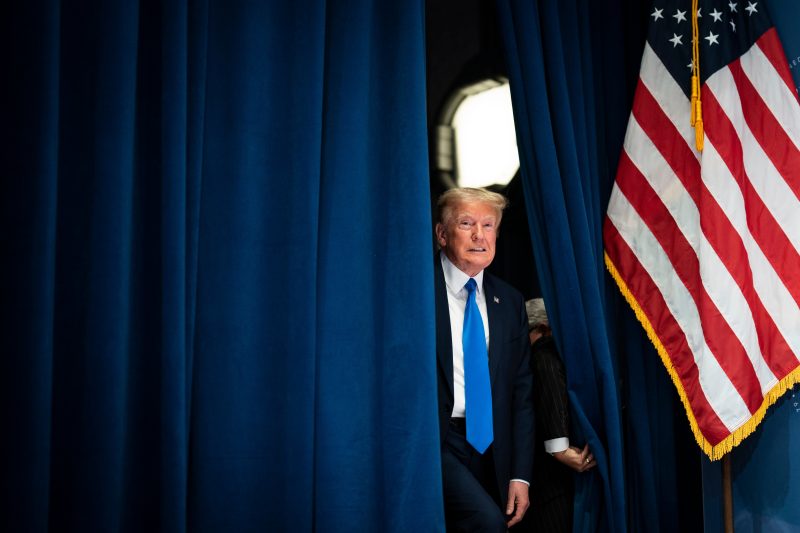 Trump seeks dismissal of D.C. case, saying he's immune to prosecution
Lawyers for former president Donald Trump urged a federal judge Thursday to toss out the indictment against him for allegedly conspiring to block the results of the 2020 election, arguing that as president at the time, he was acting within the legal boundaries "at the heart of our system of government."
Trump lawyers John Lauro and Todd Blanche, in a 46-page filing, argue that Trump is immune to prosecution for the acts cited in the indictment filed by special counsel Jack Smith — a legal claim they have been making since the indictment was filed in August.
"As the Constitution, the Supreme Court, and hundreds of years of history and tradition all make clear, the President's motivations are not for the prosecution or this Court to decide. Rather, where, as here, the President's actions are within the ambit of his office, he is absolutely immune from prosecution," the filing argues.
Trump denies the charges leveled in the indictment — that he conspired to obstruct Joe Biden's 2020 victory in the presidential election, and also conspired against Americans' right to vote and have those votes counted. The defense argument for dismissal, however, is not about whether Trump did what prosecutors accuse him of doing, but rather whether he is immune from prosecution because he was president at the time.
In the filing, Trump's attorneys detail some of the same post-election interactions that prosecutors note in the indictment, including meetings and communications with Justice Department officials.
But in their telling, if Trump participated in these meetings he was acting within the bounds of his presidency — not committing crimes as prosecutors allege.
In their motion, the lawyers argue that the courts have long shielded U.S. presidents from lawsuits over actions taken while they were serving in that position — and say the same principle should extend to criminal prosecutions.
The lawyers add, however, that the Supreme Court has not weighed in on this issue of whether or when a president is immune to criminal charges — suggesting it could be a legal debate taken up not just by the trial judge, Tanya Chutkan, but an appeals court or the highest court in the land.
"No court has addressed whether such Presidential immunity includes immunity from criminal prosecution for the President's official act," the lawyers wrote. They argued that the proper venue to decide the guilt or innocence of a president is impeachment in the Congress. Trump was impeached by the House of Representatives for actions surrounding Jan. 6 but ultimately acquitted by the Senate.
The Justice Department's four-count indictment charges that Trump's actions after he lost the 2020 election amounted to a criminal conspiracy to remain in power. It is one of four felony prosecutions Trump is facing, including a state trial in Georgia that involves similar allegations of trying to obstruct the election results in that state; a federal indictment in Florida over Trump's alleged hoarding of classified documents after leaving the White House and obstruction of government efforts to retrieve the information; and a state-level case in New York in which Trump is accused of falsifying business records in connection with a hush money payment made during the 2016 election campaign.
Trump's lawyers in the New York case also filed a dismissal motion Thursday.
Blanche, who is representing Trump in both cases, and attorney Susan Necheles argued the case brought by Manhattan District Attorney Alvin Bragg was an unjust effort that relied on novel legal theories and a problematic witness. The probe began in 2019 and did not yield an indictment until March, which Blanche and Necheles said constitutes a violation of Trump's due process rights.
In the D.C. motion to dismiss, Blanche and Lauro wrote that alleging the president acted illegally does not necessarily mean that he acted beyond "the outer perimeter" of his job, citing a Supreme Court case from the Nixon era. They argued that if Trump was not immune to prosecution for his actions, a president theoretically could be subjected to a trial every time someone alleged he was acting illegally.
Any decision by Chutkan is likely to come after a counter-argument from prosecutors, and possibly a hearing on the matter.
Legal experts have said that the issue of presidential immunity is one that the higher courts may take up before Trump goes on trial — a rare exception to general court practice, which says most appeals issues must wait until after a verdict.
Trump's attorney suggested that they may file additional pretrial motions in coming days. Chutkan has said all such motions must be filed by Monday evening.
"Other fatal deficiencies in the indictment will be addressed in future motion(s) and proceeding(s)," the filing states.
Shayna Jacobs in New York contributed to this report.
This post appeared first on The Washington Post