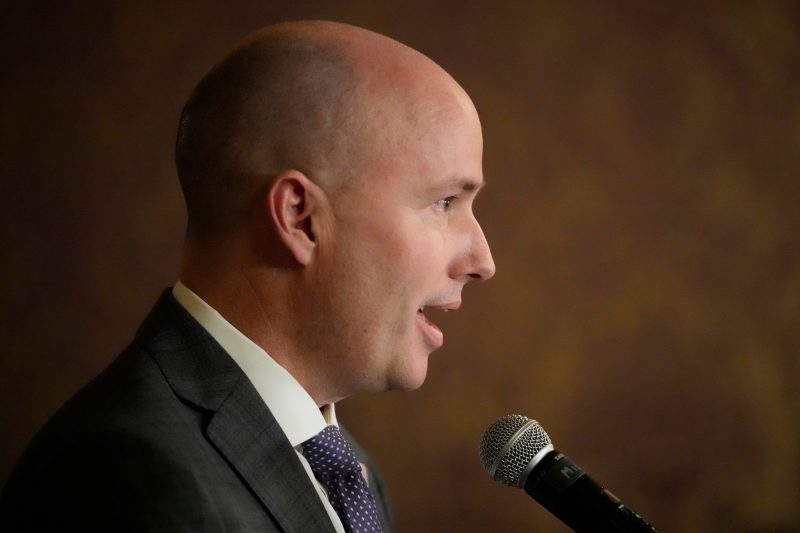 Utah Gov. Spencer Cox wants Americans to learn to 'disagree better'
In a country divided, Utah Gov. Spencer Cox (R) stands somewhere between optimism and realism. As the new chair of the National Governors Association, the focus he has chosen for the organization's coming year speaks both to the state of politics and his own aspirations. It is called "Disagree Better."
Most of Cox's predecessors as NGA leaders have used their tenure to highlight an issue that represents a problem common to all states — economic development, for example, or health care or education. Cox hopes to drill more deeply into what he believes is the most serious impediment to solving problems: the rhetorical bombshells and partisan intransigence that inhibit those with opposing viewpoints from producing real results.
"Our country is deeply divided," he said as he announced the initiative at an NGA gathering in Atlantic City this month. "We are facing a toxic debate unlike anything that we've seen since the Civil War, according to political scientists. … I think many of us believe that this division can't continue and that we have to find a way to disagree better."
Notice he did not say America must learn to agree. That is likely a bridge too far given the state of things politically. As the statement issued from the NGA in his name put it, "We don't mean that we need to be nicer to each other, although that's helpful."
Cox applauds healthy debate and recognizes it as essential to a functioning political system. He seeks not to dampen debate or disagreement but to do it with less bickering, hostility and the kind of anger that is now commonplace. He believes there is an exhausted majority of people who agree on this.
Cox also said that what he is hoping to launch is not explicitly an exercise in civility, even if that is part of what might come out of it. Instead, he hopes to find ways to model behavior, particularly among elected officials or community leaders, that will help to lower temperatures while finding some areas for genuine compromise.
"As a country in politics, we've decided we're done with persuasion," he said during a session at The Washington Post shortly before he took over the NGA chairmanship. "We're only here to own the liberals or, you know, the woke crowd. Or we're going to destroy the MAGA [make America great again] crowd and cancel people. That's it. That's all we've decided. No one is trying to convince anyone of anything. We're just here to placate our base."
The 48-year-old Cox is conservative in his views but has exhibited a moderate and inclusive style of leadership as governor. He is perhaps best known nationally for vetoing a bill that would have barred transgender athletes from competing in women's sports.
A lawyer who was raised on a family farm in Utah, he served in local government and later was elected to the state legislature. As a freshman legislator, he was nominated in 2013 to become lieutenant governor by Gov. Gary R. Herbert (R) after the previous lieutenant governor resigned. He was elected to a full term in 2016 and in 2020 sought and won the governorship.
In keeping with his current initiative, Cox has eschewed negative advertising in his campaigns. When he ran for governor, he said that he and his wife, Abby, decided they would not attack their opponents directly. "We would attack their ideas and their record, but not their personality or their person," he said.
Cox knows the resistance he faces. "The political-industrial complex," he said, is "full of cowards, and when something works, everybody copies it." He pointed specifically to the preponderance of negative advertising that permeates political campaigns. "I just believe at our core that Americans are good people and they want to see the good in others," he said, "and we have to offer an alternative."
Cox also acknowledges that his tenure as NGA chair, and therefore the time he will have to focus on this, will coincide with what he predicts will be the most divisive election season in history. "I'm trying to provide you all with counterprogramming," he said while at The Post.
In many ways, this is a crowded field. At think tanks and universities and other places, there are efforts underway to create more civil discourse, to find ways to bring people with opposing views together. Cox notes that what he and the NGA hope to be able to do is build upon those efforts and broaden the impact. "We also are hopeful this will have a broader impact on civil society," he said.
Colorado Gov. Jared Polis (D), who is the new vice chair at the NGA and friendly with Cox, said he thinks the governors association's initiative has the potential to break through in ways that others have not.
"I think this one is different because it's led by elected officials," he said in an interview. "And in fact, not just any elected officials, [but] the chief executives of the states, some of the highest-profile, most meaningful elected offices we have in terms of how we impact people's lives. … As far as I know, there's never been this kind of effort being led by a group of elected officials that really have the capacity to make a difference in this area."
The NGA used to play this role effectively, existing as a forum that brought politicians of opposing parties together into an organization that lacked the overt partisanship of some other political spaces. That has deteriorated over time, something noted by Politico's Jonathan Martin after the conclusion of the recent NGA meeting.
Martin pointed out that only three of the nation's 26 Republican governors were in attendance in Atlantic City, and that included Cox, who as the incoming chairman could not skip the event. "He wants to use his chairmanship to address precisely what the NGA has fallen victim to, the polarization fracturing the country," Martin wrote of Cox.
In recent years, the partisan voices of the Democratic Governors Association (DGA) and the Republican Governors Association (RGA) have sometimes been louder than the collective voice of the NGA.
The missions of these organizations are different — the NGA focuses on policy, the DGA and RGA on politics and getting people elected — but the conflict speaks to the challenge ahead. New Jersey Gov. Phil Murphy (D) served simultaneously as chair of the NGA and the DGA, and so was always calibrating kumbaya versus attack rhetoric.
Cox had a recent moment when the forces he hopes to shift in another direction hit home directly. It was when he described members of Congress as "imbeciles" and said they should all be fired for their failure to reform the immigration laws. He would later apologize for his outburst, but before he did, he was bombarded with messages praising him for "speaking the truth."
"Those are the incentives right now that we have out there," he said. "And it just confirmed to me that that's, you know, that's why this is so hard."
Repairing the immigration system is an important issue for Cox. "America is not divided on immigration," he said. "They're really not. The politicians are divided on immigration." This is what led to his denunciation of Congress and is something that as part of his "Disagree Better" initiative he hopes to change.
Working with various groups, he hopes to produce consensus among governors "to identify common principles around immigration policy" that might spur action in Congress. That will be a truer test of whether learning to disagree better can really lead to better policymaking.
This post appeared first on The Washington Post